Used Machinery
Used Air Compressors

Used Autobrakes / Sheet Metal Folders

Used Bar Folders
Used Sheet Metal Brakes

Used Cheek Benders

Used Cleat Benders / Cleat Folders

Used Clincher / Fasteners

Used Coil Lines

Used Crimping / Beading / Rotary Machine

Used Drill Press
Used Duct Beading Machine

Used Duct Insulation Liner Cutters

Used Flangers / Flanging Machines

Used Gorelockers / Elbow Machines

Used Grinders

Used HVAC Accessories
Used HVAC Duct Insulation Pin Spotters

Used Ironworkers

Used Laser Cutting Machines
Used Mechanical Piping Equipment

Used Notching Machines
Used Pittsburgh Seamers

Used Plasma Cutting Machines

Used Press Brakes

Used Punching Machines
Used Sheet Metal Rolls

Used Roll Formers

Used Saws

Used Sheet Metal Shears

Used Sheet Metal Slitters

Used Spiral Machines

Used Welders
ERmaksan | ERMAK USA Shears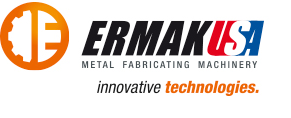 Ermaksan is one of the emerging companies in the changing market of Sheet Metal Working Machinery. With 40 years of experience dedicated to manufacturing excellent press brakes and shears.
Ermaksan is becoming one of the world's leaders in the sheet metal machinery manufacturing.
Ermak, our main brand name reflects the leading technology and a tradition of excellent products. Ermak is well known in the world market and has been for several decades. The productivity and reliability of our machines is exceeded only by their affordable prices.
Ermak Model HGD 10' X 3/8" Swing Beam Shear
Ermaksan Model HGD Hydraulic Swing Beam Shear
Standard equipment on an Ermak Hydraulic Swing Beam Shear
mono block, welded steel frame rigid to deflection moment and high tensile with ST44 A1 material
ELGO 9521 NC controller
one-piece honed and chrome plated double acting powerful cylinders,
high quality top and bottom blades - bottom :4 Top:2 cutting sides
easily adjustable blade gap adjustment system from single point
bosh - rexroth hydraulic system
high pressurized silet atos pump
fast and powerful back gauge with 1000mm distance, moving by ballscrewed shafts, with automatic swing away feature
avaiding sheet sliding during cutting action, powerful hold downs with maximum performance
cutting length adjustment allowing stroke adjustment for shorter sheets and shorten the cutting time
roller bearings on the table to help placing sheet to machine easily
front support arms with ruler and flip-Stop
foot pedal available for single or continuous cutting
cutting line illumination
sick backside protections
Optional equipment on these Ermak Swing Beam Shears
ERMAK CNC HGD automatic blade GAP and automatic target stroke adjustment according to material, thickness and length by Cybelec DNC61G cut
pneumatic sheet support system
pneumatic sheet unloading system
automatic stacking system
laser cutting line
finger protective light curtain
oil collant
longer front arms or squaring arm
angular gauge
These Ermak Hydraulic Swing Beam Shear Models HGD come with the ELGO P9521 Control. Specifications for this Delem Control listed below.
manual operation mode
single operation mode
ability to make cutting program
inch/mm conversion
99 step program
parametric adjustments
Ermak CNCHVR Hydraulic Variable Rake Guillotine Shear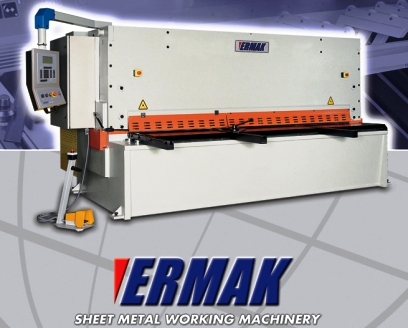 Ermaksan Model CNCHVR Series Hydraulic Variable Rake Guillotine Shear
ERMAK CNCHVR angle Adjustable Hydraulic Guillotine Shears are stong and easy to use machines which are able to cut any type of sheet with the best quality and speed.
Machines could be programmed easily with the use of dialog programs on CYBELEC control units. When the type, thickness and length of the sheet is entered to the controller, machine calculates and adjusts blade gap adjustment, backgauge distance, cutting length and cutting angle automatically.
Cutting angle adjustment is done automatically according to sheet thickness, so during cutting thin sheets, the shortest stroke is used.
Standard Equipment on these Ermak CNC HVR Hydraulic Variable Rake Guillotine Shear
Mono block, welded steel frame rigid to deflection moment and high tensile with st44 a1 material
fast and powerful back gauge with 1000mm distance, moving by ballscrewed shafts, with automatic swing away feature
avoiding sheet sliding during cutting action, powerful hold downs with maximum performance
roller bearings on the table to help placing sheets to machine easily
cybelec dnc 61 G cut controller
honed hydraulic cylinders and chrome coated pistons
high quality top and bottom blades, Bottom : 4 Top : 2 cutting sides
hydraulic operated blade gap and angle adjusting system with CNC control
bosch - rexroth hydraulic system
high pressurized silent ATOS pump
front support arms with ruler and flip-Stop
foot pedal available for single or continuous cutting
cutting line illumination and shadow line
350mm throat depth
side and rear guards
automatic serial cutting, flying cut
cNC controlled automatic angle adjustment stroke adjustmen, hydraulic blade gap adjustment
Optional Equipment for Ermak CNC HVR Hydraulic Variable Rake Guillotine Shear
pneumatic sheet support system
angular front gauge
500mm throat depth
oil collant
laser cutting line
finger protective light curtain (catagory 4)
longer front arms or squaring arm
automatic stacking system
dynamic backgauge with acservo motors
X1 , X2 backgauge for the angular cutting
stainless steel cutter