The MORLIN 5400 Hammer speeds up and takes the work out of the only tedious, costly, and time-consuming job of fabricating duct work- closing the "seam." This new MORLIN tool breezes along at speeds of 15 feet per minute on commonly used gauges. Actually, this Eagle Morlin HEAVY DUTY MODEL 5400 ELECTRIC "PITTSBURGH LOCK" HAMMER can save half of a man's time in making ducts, and do a better job.
Cut Big Jobs Down To Size . . . - Models 5200 & 5300 -
Now 2 styles of pneumatic hammers to choose from.
The Model 5200 operates with a side lever and the Model 5300 has a push lever throttle.
Powerful . . . With an effective range of 30 to 18 gauge sheet metal,
this "HEAVY-DUTY" performer has more than enough power to meet your most demanding applications.
Durable . . . All components of this fine tool are quality crafted of 100% TOOL STEEL, your assurance of years of trouble free performance.
Fast . . . The UNSURPASSED SPEED of the MODEL 5200 helps cut your big jobs down to size. Saves time and money by effectively reducing labor cost.
An Exclusive Eagle Morlin Design!
NEW SWIVEL HEAD!!
An exclusive Eagle Morlin design. New Swivel Head Guide to fit pneumatic Pittsburgh Lock Hammer Models 5200 and 5300. You can set the guide permanently with lock screws or take the screws out to have the guide swivel 360 degrees! Existing models 5200 and 5300 can be easily converted to a swivel head model.
Eagle Morlin PORTABLE "PITTSBURGH LOCK" MACHINE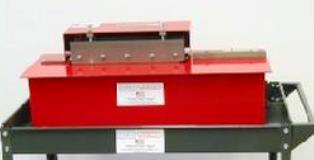 Make "PITTSBURGH LOCKS" Anywhere . . . Built "FIELD-TUFF" To Go Where The Work Is. Eagle Morlin - Model 2400 -
Capacity -- 24 to 28 gauge material.
Speed -- 35 fpm.
Motor -- Energy efficient, 1/2 H.P., 115/208-230V, 5.4 AMPS, 60 cycle, single phase, A.C., 1800 R.P.M., Auto over-load protector.
Housing -- Heavy gauge, spot welded steel enclosure with a primed and baked-on enamel finish.
Dimensions -- 32" long, 16 3/4" wide, 9 1/16" high (work surface), 13 1/4" high (cover guard). Work surface is 32" high when equipped with optional "E-Z MOVE" drop-in floor stand.
Weight -- Shipping weight, without optional floor stand, is approximately 109 pounds or 139 pounds with stand.
General -- All forming head components are precision crafted using case hardened steel and needle bearings throughout. Exclusive tuck-away power cord for easy portability.
Eagle Morlin Model 1300 Handy Flanger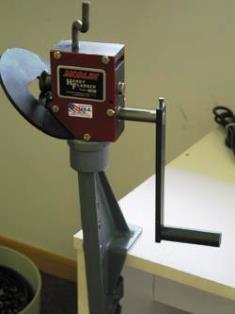 Capacity: 20 gauge or lighter
Super heavy-duty construction, to last for years.
Makes a perfect 7/32 flange, even on radius fittings.
Precision crafted for effortless operation.
Simply clamp your Eagle Morlin Model 1300 Handy Flanger to any work surface and it's ready to use.
Eagle Morlin Rotary Machine - Model R22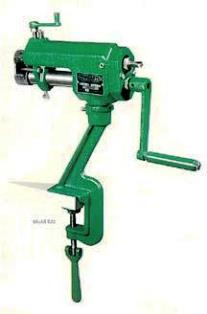 The Model R22 rotary machine, with the interchangeable rolls, is a versatile forming tool for the manual performance of numerous sheet metal operations. This tool features a solid cast, enclosed frame and smooth meshing machine gears. Material can be fed through the rolls in either direction by selecting the proper arbor. The forming pressure of the rolls is controlled by the crank on top of the frame. This unit comes in standard rolls A, C, D, E and F listed on the chart, a hand crank, spanner and bench stand.