upcoming events for sheet metal fabrication industries - hvac shops, sign companies, roofing companies, fabrication shops, and oem companies
Keep Up With What Is Happening In The World Of Sheet Metal Fabricating.
International Roofing Expo 2021

The IRE 2021 Virtual Conference and Expo will be held March 2-4. It will feature both live and on-demand educational sessions, a virtual exhibit directory, a product directory, and a networking platform where attendees and exhibitors can engage with each other via chat, video call, and more.
The IRE 2021 in-person event will be held August 10-12. It will continue to include a large exhibition hall featuring the industry's top manufacturers and suppliers, a robust conference program, and unparalleled networking events for attendees and exhibitors.
Registration For IRE 2021 is currently open
The International Roofing Expo [IRE] is the preeminent roofing construction and maintenance event where roofing professionals
gather to see, compare and learn about the newest products, best practices and innovations essential to your success. The expansive show floor
and extensive educational program provide the best opportunity to discover the latest trends, advances in technology and best practices for business growth.
Everything to expand your customer base, improve your bottom line and increase your sales is waiting for you right here. From top suppliers and unique
resources to unbeatable networking and the best educational conference in the business — the IRE brings it all together for you like no other event can.
Begin 2021 at the first and largest roofing industry gathering – the International Roofing Expo® – your once-a-year opportunity to
maximize your company's productivity, efficiency and profitability. IRE brings all segments of the roofing
construction and maintenance industry together for three days of face-to-face interaction,
product review, education and networking.
FABTECH 2021

North America's largest metal forming, fabricating, welding and finishing event heads to McCormick Place, September 13-16, 2021. FABTECH provides a convenient 'one-stop shop' venue where you can meet with world- class suppliers, see the latest industry products and developments, and find the tools to improve productivity, increase profits and discover new solutions to all of your metal forming, fabricating, welding and finishing needs.
When it comes to metal forming, fabricating, welding, and finishing, FABTECH is the only event that makes it possible to see it all together. This is where you'll find the latest in manufacturing equipment. Discover innovations by application and industry. And see the advanced manufacturing solutions that bring new levels of productivity and efficiency to your operations. FABTECH gives you the tools, technology, and thought leadership to stay ahead of the competition. Make it here this September.
EXPO BASICS
Expo Hours
Monday Sept. 13 10 AM — 6 PM
Tuesday Sept. 14 9 AM — 5 PM
Wednesday Sept. 15 9 AM — 5 PM
Thursday Sept. 16 9 AM — 3 PM
*East Building (Lakeside Center) opens at 9 AM
Cost to Attend
Show floor admission is complimentary if you register by September 9, 2021. After the deadline and on-site, the fee is $50 (US).
Venue Information
McCormick Place
2301 S. King Dr.
Chicago, Illinois 60616
Registration for FABTECH 2021 is OPEN.
AHR Expo 2021
The World's Largest HVACR Marketplace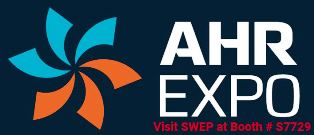 Chicago 2021 is Cancelled; Looking ahead to the 2022 AHR Expo in Las Vegas

"After exhausting all possibilities to tentatively reschedule the Show for March 2021, we regret to announce today the forced cancellation of the 2021 AHR Expo in Chicago. With roadblocks set in place by the ongoing COVID-19 pandemic and resulting current state and local restrictions that prohibit mass gatherings over 50 people, an in-person event will not take place in 2021. Instead, we'll shift our focus to 2022 and prepare for an in-person event in Las Vegas, NV."



Receive Show Updates



More Information
About The Show:
The AHR Expo is the world's largest HVACR event, attracting the most comprehensive gathering of industry professionals from around the globe each year. The Show provides a unique forum where manufacturers of all sizes and specialties, whether a major industry brand or innovative start-up, can come together to share ideas and showcase the future of HVACR technology under one roof. Since 1930, the AHR Expo has remained the industry's best place for OEMs, engineers, contractors, facility operators, architects, educators and other industry professionals to explore the latest trends and applications and to cultivate mutually beneficial business relationships. The event is co-sponsored by ASHRAE and AHRI, endorsed by many industry leading organizations, and is held concurrently with ASHRAE's Winter Conference.
Who Should Attend:
The AHR Expo is designed for professionals who work with HVACR-related products and services. Attendees include OEMs, Engineering & Design/Build Firms, Contracting Firms, Distributors and Rep Firms, as well as Public Utilities, Commercial, Industrial and Institutional Facility Operators, Educators and the Press. They come to the Show each year to source the latest products, learn about new technologies and develop mutually beneficial business relationships.

What You'll Find ...
FIND THOUSANDS OF PRODUCTS IN MORE THAN 770 CATEGORIES, INCLUDING:
Heating Systems, Air Conditioning Units, Refrigerating Equipment
Ventilators, Ducts, and Fans
IAQ Related Products, including Filters
Building Automation, Controls, Networking, and Energy Management Systems
Radiant Heating, Hydronic Systems, and Plumbing Products
Tools, and Instruments
Software for HVAC Design, Estimating and Service/Business Management
Solar, Geothermal and other Renewable Energy Related Products

See what's new
The AHR Expo is all about helping you find better, faster, smarter, cleaner and more efficient ways to get things done. At each Show, hundreds of products are introduced to the market that have never been seen before, and every company is showcasing the very latest technology available.
Get face-to-face
Even with all our modern communication tools, nothing can take the place of seeing and comparing equipment and services in person. At the Show, you can get the information you need directly from the experts, and build relationships with suppliers.
Learn and grow
There are many educational options at the AHR Expo. The ASHRAE Learning Institute offers full-day and half-day for-credit courses. In addition, there are many shorter classes provided by a wide variety of industry Associations. Finally, exhibiting companies will be making short presentations of their latest products in the New Product and Technology Theater.
Upcoming Shows
2022: Las Vegas, Jan 31-Feb 2
2023: Atlanta, Feb 6-8
International Sign Expo 2021
**ANNOUNCEMENT FROM ISA: ISA 2021 IS NOW VIRTUAL**

Given the current state of the pandemic, the ISA Board of Directors determined that ISA Sign Expo® 2021 will be a fully virtual event taking place over the same dates, April 7-9, 2021. Read the full announcement.

We invite you to join us for this truly dynamic experience. ISA Sign Expo 2021 – Virtual will be more than just a trade show or a conference. It will be an immersive and interactive opportunity to do business, connect and learn – fulfilling our industry's need to converge in an environment that is both safe and effective. ISA Sign Expo 2021 – Virtual will allow for a broader segment of our industry to fully participate in our show, including more international colleagues, those who normally do not travel for their companies and a wider scope of exhibitors. And it will provide access to the latest products, ideas and connections to help you grow and build your business.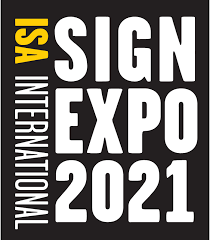 Wednesday - Friday
April 7-9, 2021

Register For the fully virtual ISA Sign Expo 2021
At ISA Sign Expo®, there's something for everyone, whether you are a:


Custom sign company

providing signs, graphics and visual communications products and/or services to end-users in a single state or local market

National sign company

providing signs, graphics and visual communications products and/or services to end-users in multiple states/provinces or nationally

Printer

primarily focusing your business on wide format graphics and digital print

Installer

primarily focusing your business on the installation of sign, graphics and visual communications products

Designer

working with clients on architectural signage, wayfinding, branding and more

End-user or corporate buyer

managing the purchasing of exterior signage and wayfinding for your company's brand
ISA Sign Expo® is the most comprehensive gathering of sign, graphics and visual communications professionals, showcasing products from vendors in wide format printing, digital signage, electrical signage, LEDs and so much more.
Join us for ISA Sign Expo 2021 – Virtual to build community, increase collaboration and find a spark of creativity to move your business forward.
Explore new opportunities

Find the industry's latest advances in products and technologies that change how people engage and interact with signage.


Discover innovative and cost-saving new products

Source cutting-edge products and find new revenue streams for your business.


Learn ingenious solutions and best practices

Explore new ideas, learn from the experts and gain critical information to keep your business competitive.

IMTS - International Manufacturing Technology Show - 2020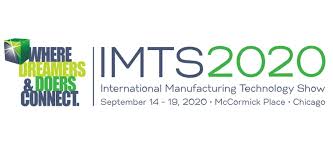 IMTS 2020 has been cancelled. IMTS 2022 will take place September 12 – 17, 2022 at McCormick Place, Chicago, IL USA.
Why Attend IMTS?
IMTS Will Provide You With New Manufacturing Technologies & Ideas!
More than 100,000 industrial decision-makers, including many of your competitors, attend the International Manufacturing Technology Show (IMTS)
to get ideas and find answers to their manufacturing problems. They will see new technology demonstrated ...
and choose the best for their needs.
At IMTS they find ways to cut costs and get more work. They know that to survive and succeed, they must keep up with technology
... and stay ahead of their competitors!
Attend IMTS... Dominate The Competition
YES! Show after show, we ask attendees, and they tell us:
•95% are satisfied with exhibit visits
•91% are successful in finding specific products or solving manufacturing problems
•60% make new business contacts
See new technologies demonstrated.
Hear from world leading industry experts.
Learn How Master Lock Plant Management Finds Innovation at IMTS
The IMTS Conference Program Provides Solutions
The conference, where Technology and Business connect, brings together experts from the industry to
give you the most useful and up-to-date technical information available.

•Sessions complement what you see on the exhibit floor
•Gain insight into improving your production and operations
•Learn from professionals with solutions to your manufacturing challenges
•Network with peers
Industrial Automation North America at IMTS
Industrial Automation North America (IANA) brings the international flare and dynamic excitement of HANNOVER MESSE's Process,
Factory and Building Automation sector to Chicago. IANA and IMTS is the most comprehensive manufacturing technology
trade show in the Western Hemisphere. Bringing together industrial automation companies, you will surely
find technologies and solutions to meet your manufacturing needs. Network with key industry players and
learn from industry experts through the IANA conferences and training workshops.
Who Should Attend IMTS?
Everyone involved in manufacturing will benefit from experiencing the vast array of technologies available at IMTS.

•Executives building a business
•Decision makers involved in manufacturing equipment purchases
•Engineers who identify equipment needs
•Plant superintendents who will set it up
•Operators who use the equipment and know it better than anyone else
•All staff members and suppliers you count on for new ideas
IMTS Will Optimize Your Show Floor Productivity
To help guide attendees to booths quickly and easily, we organize exhibits in Pavilions that are geared toward specific
industries, technologies and solutions.
Sign-up for the IMTS Insider to stay informed and get the latest news on IMTS.

METALCON International 2020

METALCON 2020 UPDATE: Unfortunately, due to the ongoing COVID-19 pandemic and mandates by the state of Nevada, METALCON 2020 cannot take place as planned. As the producers of the only global event dedicated to the use of metal in design and construction, we know how important METALCON is to your business. While there is nothing like a live, in-person event where you can learn, connect and conduct business, beginning this Fall, METALCON Live! will deliver-- virtually, essential training you need to take your business to the next level. Look for information about our new Industry Briefs, and Certificate Programs covering business enhancement and safety for the metal construction community. Be sure to mark your calendar for METALCON 2021! It will take place in Tampa, FL, from October 6-8 at the Tampa Convention Center. We look forward to delivering a world-class 30 + 1 Anniversary event! Please contact info@metalcon.com with any questions. Thank you for your continued support. We wish you good health.
METALCON International is the one event where the who's who of the metal design and
construction industry attend every year
METALCON is everything to metal design and construction professionals worldwide. Be among the best this
growing and evolving industry has to offer…at METALCON live.

Since 1991, METALCON has been the single niche market tradeshow catering to the specific needs of a specific audience. You.

Metal design and construction professionals find innovations, sustainable, eco-friendly, energy efficient, solar, retrofit, green technology products
and education at METALCON International.

Adapt. Innovate. Evolve. METALCON live.

There's an energy. It's electric and exciting. Like-minded thinkers converge to learn from the industry's best and brightest. They engage and
create relationships. It's fresh, new and evolving. There are ideas. Momentum. Growth. Businesses come alive.
They thrive at METALCON live.
Join the METALCON evolution revolution.


Return to the Home Page