Keep Up With What Is Happening In The World Of Sheet Metal Fabricating.
AHR Expo 2019
The World's Largest HVACR Marketplace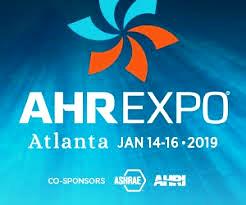 2019 AHR EXPO
January 14 - January 16, 2019
Georgia World Congress Center
Atlanta, GA 30313


DATES & HOURS
Monday, Jan 14, 10am – 6pm
Tuesday, Jan 15, 10am – 6pm
Wednesday, Jan 16, 10am – 4pm


Register For The 2019 AHR Expo - Not Currently Available


FREE REGISTRATION FOR THE 2019 AHR EXPO WILL OPEN EARLY SUMMER!


Hotel & Travel Information
About The Show:
Get more done in less time at the world's largest HVACR marketplace.
The AHR Expo will put on display over 400,000 square feet (that's about 9 football fields) of exhibits from nearly 2,000 companies
representing every segment of the HVACR industry. This makes the Show a one-of-a-kind opportunity to find everything
you're looking for all in one place.
Who Should Attend:
The drive for greater energy efficiency, greener products and sustainable technologies has accelerated the pace at which new products and
innovations are coming to market. In this challenging economy, HVACR professionals must also be more innovative in their
businesses or be left behind. That's why AHR Expo is the one event you don't want to miss.

What You'll Find ...

See what's new
The AHR Expo is all about helping you find better, faster, smarter, cleaner and more efficient ways to get things done. At each Show, hundreds of products are introduced to the market that have never been seen before, and every company is showcasing the very latest technology available.
Get face-to-face
Even with all our modern communication tools, nothing can take the place of seeing and comparing equipment and services in person. At the Show, you can get the information you need directly from the experts, and build relationships with suppliers.
Learn and grow
There are many educational options at the AHR Expo. The ASHRAE Learning Institute offers full-day and half-day for-credit courses. In addition, there are many shorter classes provided by a wide variety of industry Associations. Finally, exhibiting companies will be making short presentations of their latest products in the New Product and Technology Theater.
International Roofing Expo 2019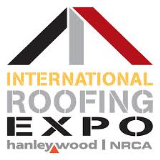 International Roofing Expo 2019
SAVE THE DATE!!!!

Register For IRE 2019
The International Roofing Expo [IRE] is the preeminent roofing construction and maintenance event where roofing professionals
gather to see, compare and learn about the newest products, best practices and innovations essential to your success. The expansive show floor
and extensive educational program provide the best opportunity to discover the latest trends, advances in technology and best practices for business growth.
Everything to expand your customer base, improve your bottom line and increase your sales is waiting for you right here. From top suppliers and unique
resources to unbeatable networking and the best educational conference in the business — the IRE brings it all together for you like no other event can.
February 11 - 13, 2019
Music City Center
Nashville, Tennessee
United States

EXHIBIT HALL HOURS:
TBA
CONFERENCE HOURS:
TBA
ON-SITE REGISTRATION HOURS:
TBA
Begin 2018 at the first and largest roofing industry gathering – the International Roofing Expo® – your once-a-year opportunity to
maximize your company's productivity, efficiency and profitability. IRE brings all segments of the roofing
construction and maintenance industry together for three days of face-to-face interaction,
product review, education and networking.
International Sign Expo 2019
SAVE THE DATE!!!!

ISA International Sign Expo 2019
EDUCATION & NETWORKING: April 23 - 26
TRADE SHOW: April 24 - 26
Las Vegas, NV
Trade Show Floor Hours

TBA
Register For ISA Sign Expo 2019 - Not Currently Available
Why you can't miss the ISA International Sign Expo —


The ISA International Sign Expo is the must-attend annual event for the sign industry. It's where sign manufacturers, integrators,
suppliers, distributors and more, come together to learn, network and conduct business. Serving a multifaceted industry,
with technological innovations in digital printing and dynamic digital signage evolving constantly, this
trade show is the place where you'll find all of the latest products, services
and technologies in the sign industry.

In these critical times, achieving effective results demands a paradigm shift that can only be realized with exposure to new
thoughts and ideas. The ISA International Sign Expo will help you discover and implement ideas that deliver results.
It will train your mind to search for innovative solutions. It will provide opportunities to make valuable
connections with other industry professionals and suppliers who have solutions you need.
And, it will prepare you for the long road ahead, in just one trip.
Why attend the 2019 ISA International Sign Expo?


Because it's the one industry event where you can:

FIND new ideas

SEE products first-hand

HEAR directly from industry experts

And, DISCOVER all the industry has to offer.

If you want to take your sign business to the next level in 2018, then you need to attend the ISA International Sign Expo.
With more than 550 exhibitors and 18,000 colleagues under one roof, you are certain to find the ideas and
products that will make an immediate impact on your business.

Beyond the trade show floor, ISA International Sign Academy education sessions offer insight on
the latest developments in the signage industry.
IMTS - International Manufacturing Technology Show - 2018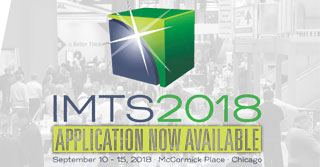 IMTS - International Manufacturing Technology Show 2018
September 10-15, 2018
McCormick Place
2301 S King Dr
Chicago, IL 60616
Register For IMTS 2018
Why Attend IMTS?
IMTS Will Provide You With New Manufacturing Technologies & Ideas!
More than 100,000 industrial decision-makers, including many of your competitors, attend the International Manufacturing Technology Show (IMTS)
to get ideas and find answers to their manufacturing problems. They will see new technology demonstrated ...
and choose the best for their needs.
At IMTS they find ways to cut costs and get more work. They know that to survive and succeed, they must keep up with technology
... and stay ahead of their competitors!
Attend IMTS ... Dominate The Competition
YES! Show after show, we ask attendees, and they tell us:
•95% are satisfied with exhibit visits
•91% are successful in finding specific products or solving manufacturing problems
•60% make new business contacts
See new technologies demonstrated.
Hear from world leading industry experts.
Learn How Master Lock Plant Management Finds Innovation at IMTS
The IMTS Conference Program Provides Solutions
The conference, where Technology and Business connect, brings together experts from the industry to
give you the most useful and up-to-date technical information available.

•Sessions complement what you see on the exhibit floor
•Gain insight into improving your production and operations
•Learn from professionals with solutions to your manufacturing challenges
•Network with peers
Industrial Automation North America at IMTS
Industrial Automation North America (IANA) brings the international flare and dynamic excitement of HANNOVER MESSE's Process,
Factory and Building Automation sector to Chicago. IANA and IMTS is the most comprehensive manufacturing technology
trade show in the Western Hemisphere. Bringing together industrial automation companies, you will surely
find technologies and solutions to meet your manufacturing needs. Network with key industry players and
learn from industry experts through the IANA conferences and training workshops.
Who Should Attend IMTS?
Everyone involved in manufacturing will benefit from experiencing the vast array of technologies available at IMTS.

•Executives building a business
•Decision makers involved in manufacturing equipment purchases
•Engineers who identify equipment needs
•Plant superintendents who will set it up
•Operators who use the equipment and know it better than anyone else
•All staff members and suppliers you count on for new ideas
IMTS Will Optimize Your Show Floor Productivity
To help guide attendees to booths quickly and easily, we organize exhibits in Pavilions that are geared toward specific
industries, technologies and solutions.
Sign-up for the IMTS Insider to stay informed and get the latest news on IMTS.

METALCON 2018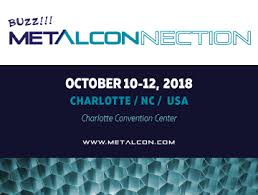 METALCON International 2018
October 10 - 12 2018
Charlotte Convention Center
501 S College Street
Charlotte, NC, 28202
www.charlotteconventionctr.com
EXHIBIT HALL HOURS:

Wednesday: 12pm-6pm
Thursday: 12pm-6pm
Friday: 10am-1pm
METALCON International is the one event where the who's who of the metal design and
construction industry attend every year
Register For METALCON International 2018
METALCON is everything to metal design and construction professionals worldwide. Be among the best this
growing and evolving industry has to offer…at METALCON live.

Since 1991, METALCON has been the single niche market tradeshow catering to the specific needs of a specific audience. You.

Metal design and construction professionals find innovations, sustainable, eco-friendly, energy efficient, solar, retrofit, green technology products
and education at METALCON International.

Adapt. Innovate. Evolve. METALCON live.

There's an energy. It's electric and exciting. Like-minded thinkers converge to learn from the industry's best and brightest. They engage and
create relationships. It's fresh, new and evolving. There are ideas. Momentum. Growth. Businesses come alive.
They thrive at METALCON live.
Join the METALCON evolution revolution.

FABTECH 2018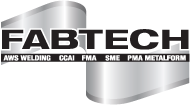 North America's Largest Metal Forming, Fabricating, Welding and Finishing Event


FABTECH 2018

November 6-8, 2018
Georgia World Congress Center
285 Andrew Young International Blvd NW
Atlanta, GA 30313
www.gwcca.org/gwcc/
SHOW HOURS:

Tuesday, November 6: 10:00 AM – 6:00 PM
Wednesday, November 7: 9:00 AM – 5:00 PM
Thursday, November 8: 9:00 AM – 4:00 PM
FABTECH provides a convenient venue where you can meet with world-class suppliers, see the latest industry products and developments, and find the tools to improve productivity, increase profits and discover new solutions to all of your metal forming, fabricating, welding, and finishing needs. The annual event will offer more than 1,300 exhibitors and 28,000 attendees full access to over 550,000 net square feet of floor space

Registration for FABTECH 2018 opens in April. The link will notify you when registration is available.
North America's largest metal forming, fabricating, welding and finishing Event.
Join us November 6 - 8, 2018 for the show with a degree of difference.
FABTECH is where new ideas, products and technology are highlighted through interactive exhibits, education and networking. Compare
solutions from 1,500 exhibitors, find machine tools to improve quality and productivity and learn
new ways to increase profit.

Make Your Chicago Hotel Reservations