Edge notchers | Sheet metal machinery

Tin Knocker 20 Ga Sheet Metal Edge Notcher
Round surface edges for collars and end caps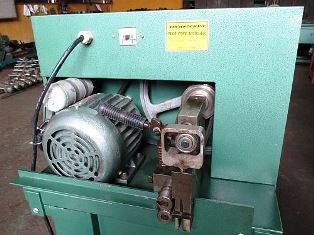 Specifications:
Capacity: 20 Ga Mild Steel
Motor: 1/3 HP, 110V, Single Phase, 60Hz AC
Depth of Notch: 0 to 3/4"
Width of Notch: 3/16"
Spacing: 3/4" to 1-7/16"
Speed: Variable Minimum 18 FPM
Approx. Overall Dimensions: 21"x16.5"x13"
Approx. Shipping Weight: 290 lbs.

Em-Pro Power Edge Notcher
The Em-Pro Notcher will "slot-notch" metal up to a maximum of 20GA. Ideal for starting collars for ductwork or standing seam for fittings. The smooth power driven feed rolls and tool steel punch and die ensure accurate parts every time. Our stainless steel material guide means longer life even when running plasma cut parts. Made in Canada using only the best quality material and parts means peace of mind and years of trouble free running.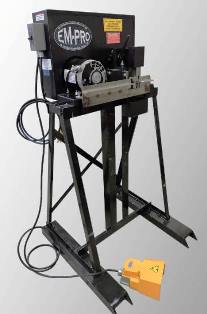 *Shown With Optional Stand
Specifications:
Capacity (Mild Steel): 20GA
Notch Depth: 5/16" to 13/16"
Notch Width: 3/16"
Spacing: 5/8" to 1-3/8"
Speed: 18 fpm
Motor: 110V, 1/3HP
Dimensions (LxWxH): 21"X 13"X 17"
Shipping Weight: 85 lbs

Return to the New Machinery Page
Return to the Home Page