Engel VIKING Plasma Table | Plasma Cutting machine | plasma burning table

The VIKING Plasma Table

Engel Industries, a name you know and trust, is proud to introduce Viking® - its next generation of plasma cutting systems. Combining equal parts evolution and innovation, Engel Industries had developed a plasma cutting system for the HVAC industry that is built to last longer, cut better and deliver the highest levels of quality and value.
POWER MEETS PRECISION
Every Engel Industries Viking plasma cutting system has been designed to maximize your return on investment by delivering years of quality service. That's why the Viking HVAC plasma table includes the highest quality components on one of the industry's toughest and most stable frames. Combined with precision linear bearings, dual rack - and - pinion drives, and a proven plasma torch capable of delivering clean, precise cuts, Viking effortlessly delivers the power and precision that today's HVAC companies demand.
INNOVATIVE DESIGN. PROVEN RESULTS.
Innovative ideas are all over the Viking plasma table - ideas that will save you time and money. For example, a unique "quick change" torch head assembly enables an operator to quickly change consumables without using any tools. What's more , you can reduce energy and heat costs because make-up air is not required due to the optional high-efficiency, multiple-zone exhaust system. Of coarse, what matters most is the quality of the cut, and it's here that Viking plasma cutting table really excels. Engels Viking's innovative rack-and pinion drive system, incorporating sealed motors with high accuracy optical encoders, provides the accuracy you need. What's more, the unique floating head design of the Hypertherm® Powermax 1000 plasma torch ensures hight - quality , continuous cuts for both beaded and nonbeaded material. The result? You get your job right the first time - every time!
INCREASE YOUR PRODUCTIVITY WITH THE VIKING DOUBLE PLASMA TABLE
Engel's Viking plasma table was also designed to be flexible. That's why a double table option is available for high - volume shops or those expecting to grow their business. Measuring 10 foot by 20 foot , it contains all the first - rate features of the single table version - and in addition, you have a second table on which to work. Because you can work concurrently on both surfaces, you can remove completed pieces from one table while cutting on the other.
GET MORE WITH THE VIKING PLASMA CUTTING SYSTEM
excellent cut quality and precision on a wide variety of materials
cut up to 500 inches per minute ( in lighter gauges) with the Hypertherm® Powermax 1000 plasma cutting source and traverse at speeds up to 800 IPM
floating torch head design delivers high-quality, continuous cuts on beaded and nonbeaded material
unique " quick change " torch head assembly for easy maintenance
hardened hourglass sealed bearings and ways for maximum stability and cutting system accuracy
sealed motors with optical encoders to meet the tightest tolerances
the optional high - efficiency, multiple - zone exhaust system substantially reduces energy and heat costs
field - proven vulcan cutting system software for high - productivity operation
conveniently located, multifunction operator's control panel for complete machine control and downloading of programs
unibody design ensures easy installation and operational stability
no foundation required, so start - up costs are reduced
heavy - duty construction to ensure long life and maximum return on investment
user - friendly operator controls and easy - to - use software
collision protection for the torch head assembly and torch body
patented hypertherm - shielded nozzle for longer nozzle life and heavier piercing capacity
predesigned shapes, plus more than 175 icon choices provided as standard
preview fitting in 3 - d , and store frequently used fittings in a user - defined library
convenient table leveling jacks on each table let
features the latest software from quickpen® for maximum efficiency and reliability. this includes the enhanced fitting cutting software and supernest sheet optimization as standard
custom support via the internet includes online chat and diagnostics
powerful computer system workstation
In the increasly competitive HVAC industry, it's all about doing more with less - working smarter and faster, yet always delivering the highest quality. The good news is that you'll be able to do just that with Viking's standard high - productivity software and CNC controller.
VIKING EXHAUST SYSTEM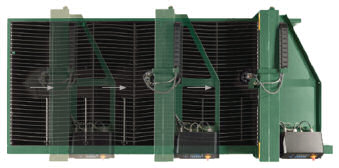 The Viking plasma table is divided into 6 zones with the optional zoned exhaust system. As the bridge moves up and down the "Y" axis it opens and closes the exhaust dampers. There are never more than 2 zones opened at one time which concentrates the "down draft " exhaust in the area where the plasma cutting is taking place thus reducing the CFM required to effectively exhaust the system.
SPECIFICATIONS FOR THE ENGEL VULCAN VIKING PLASMA CUTTING SYSTEM :
Computer system - 586 CPU w/mouse and 17" super VGA flat panel monitor, Windows operating system with enhanced 101- style keyboard, Two high - speed graphic printers with 200' fiber optic cable
Plasma Cutting Table - Maximum sheet thickness is 1/2" , Maximum sheet size is 60" X 120" , Maximum weight is 1,000 pounds.
Positional Accuracy - +- 1/32"
Cutting Speeds - 1 to 800 IPM depending on sheet metal thickness , Maximum positioning sprred is 800 IPM
Power Source for the Vulcan Plasma Table - Adjustable from 20 to 60 amps, 40 amps at 100% duty cycle 200-600 volts, 1- or 3- phase units available, 1/2" pierce
Control Panel - DC servo power supply rated at 60 volts , 10 amps. Optically isolated I/O. 100 - Volt sealed, brushless motor encoder for reliable dust-free operation. All cabling shielded to Engel specifications
Electrical Requirements - Plasma transformer: 200 - 600 VAC , 1 or 3 - phase, 60 cycle incoming power , CNC control:110/1/60 , Office Computer system: 110/1/60
Available table sizes for the Vulcan Viking Plasma HVAC plasma cutting system- Single Table is 5' X 10' and Double Table is 5' X 20'
Return to the New Machinery Page
Return to the Home Page