Gardner Bully Combination Beader Crimper Machine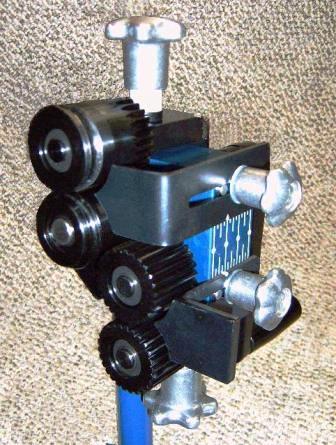 Manufacturer:

Condition: New
Description: The GARDNER BULLY Combination Beader and Crimper is a machine that is light in weight and can perform both beading and crimping sequentially in one setup. This hand cranked unit is easily portable and is intended for field use in the insulation trade where thin gauge materials are used. The machine was field tested by insulators and refined before committed to production.
Specifications
Maximum thickness of material processed: 0.030 inches
Maximum crimp width: 1 1/2 inches
Bead diameter outside, large bead: 1/4 inches
Bead diameter outside, small bead: 1/8 inches
Maximum distance from bead center to edge: 1 1/2 inches
Total weight of machine: 16 pounds
Thickness range of bench top for mounting: 3/4 to 3 1/2 inches
Features

• Proudly conceived, designed and manufactured in the USA.
• Performs both beading and crimping operations sequentially with one setup.
• No tools are needed for setups.
• All adjustment knobs are captive. There are no separable items that may become lost.
• Both bead and crimp have markable surfaces to assist the operator in repeating setups.
• Either 1/8 inch or 1/4 inch bead sizes available. Unit capable of accepting either bead size with easy field conversion. Additional bead heads sold seperately.
• The unit allows the head to be positioned as desired to the preference of the operator.
• Easily portable for job site use.
• Designed to last.