Used Machinery
Used Air Compressors

Used Autobrakes / Sheet Metal Folders

Used Bar Folders
Used Sheet Metal Brakes

Used Cheek Benders

Used Cleat Benders / Cleat Folders

Used Clincher / Fasteners

Used Coil Lines

Used Crimping / Beading / Rotary Machine

Used Drill Press
Used Duct Beading Machine

Used Duct Insulation Liner Cutters

Used Flangers / Flanging Machines

Used Gorelockers / Elbow Machines

Used Grinders

Used HVAC Accessories
Used HVAC Duct Insulation Pin Spotters

Used Ironworkers

Used Laser Cutting Machines
Used Mechanical Piping Equipment

Used Notching Machines

Used Plasma Cutting Machines

Used Press Brakes

Used Punching Machines
Used Sheet Metal Rolls

Used Roll Formers

Used Saws

Used Sheet Metal Shears

Used Sheet Metal Slitters

Used Spiral Machines

Used Welders
Glue Systems | HVAC equipment

Duro Dyne Model GBAC Roto Bonder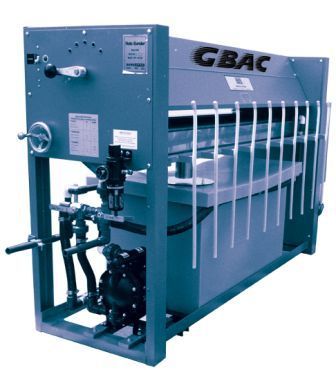 The Duro Dyne Roto Bonder is a machine designed specifically for the purpose of roller coating one side of duct liner with adhesive prior to joining the metal section of the duct.
Insulation up to 60" wide can be evenly coated at a rate of 52' per minute.
Either Duro Dyne's WSA or WIT adhesive can be used. Both are water base non-flammable adhesive and are available in 55 gallon drums or 5 gallon pails.
The WIT has a viscosity of 1500 cos., WSA has a viscosity of 1800 cps. The GBAC Roto Bonder contains a trough through which the lower of two rollers rotate.
The lower roller picks up adhesive, the thickness of which is controlled accurately by an adjustable metering bar. The Duro Dyne GBAC Roto Bonder accepts insulation of varying thickness for 1/2 to 2 inches.
Duro Dyne's GBAC roto bonder glue system SPECIFICATIONS:
Motor - 1/3 Hp motor
Pump - air operated diaphragm type
Insulation Thickness- machine adjustable to coat from 1/2 to 2" thick
Liner Width - from 12" to 60" wide
Liner Length - from 12"
Speed of Application - approximately 52' per minute
Return to the New Machinery Page
Return to the Home Page