Hand tools | sheet metal hand tools | hand held sheet metal fabricating tools

Roper Whitney NO. 5 JR. Hand Punch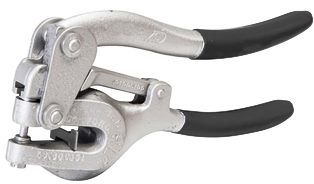 The Roper Whitney No. 5 Jr. Hand Punch is a Light Duty Portable Punch for limited punching power (1.2 tons or less.) They're easy to carry in the pocket, on a belt or in a tool box. Hardened, machined bearing surfaces are used in these tools to provide dependable long life within the rated capacity.
Specifications of the Roper Whitney No. 5 Jr. Hand Punch:
Maximum rated capacity: * 1.2 tons
Smallest available
Hand operation
Adjustable stop gauge
The Roper Whitney No. 5 Jr. punch has a standard 1 3/4-inch throat depth, while the Roper Whitney No. XX has a deep throat configuration to punch up to 3 1/4-inch from the edge. The No. XX may be used to punch light channels with 1" minimum inside dimension and 1 3/8" maximum flange. Both of these Roper Whitney hand punches have optional mounting bases, and are also available as kits with a standard assortment of round punches and dies in a durable plastic box.
Eagle Morlin Model 5400 Hammer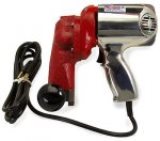 The MORLIN 5400 Hammer speeds up and takes the work out of the only tedious, costly, and time-consuming job of fabricating duct work- closing the "seam." This new MORLIN tool breezes along at speeds of 15 feet per minute on commonly used gauges. Actually, it can save half of a man's time in making ducts, and do a better job.
Ends Hand Hammering . . .
Just a couple of taps at the center and ends of a standard length duct to secure the lock . . . then the MORLIN Pittsburgh Lock Hammer does all the work.
Versatile . . .
Handles 30 to 22 gauge (no adjustment required). For straight runs, inside or outside radius . . . use it in the shop or on the job.
Perfect Balance . . .
Weight rests on the work . . . position of handle affords positive control and balance . . . guides easily along the seam.
Powerful . . .
HEAVY-DUTY BUILT 115V AC motor . . . more than enough power for any job.
Rugged . . .
Sturdily built for heavy-duty use . . . ball and roller bearings throughout.
Eagle Morlin Model 5200 Hammer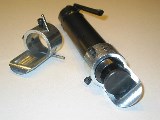 Powerful . . .
With an effective range of 30 to 18 gauge sheet metal,
this "HEAVY-DUTY" performer has more than enough power to meet your most demanding applications.
Durable . . .
All components of this fine tool are quality crafted of 100% TOOL STEEL, your assurance of years of trouble free performance.
Fast . . .
The UNSURPASSED SPEED of the MODEL 5200 helps cut your big jobs down to size. Saves time and money by effectively reducing labor cost.
Return to the New Machinery Page
Return to the Home Page