Letter forming Brakes | sheet metal brakes

Roper Whitney Letter Forming Brake (Model 99)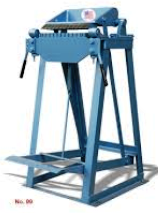 This unique small bending brake, with its slotted jaws and apron, is especially designed for bending sheet metal strips which have one or more bent-up edges or seams already formed; such as forming the "drum return" on metal sign letters. It may also be used for straight bending of sheet metal up to 12" wide.
Specifications of the Roper Whitney Letter Forming Brake Model # 99:
Capacity Mild Steel - 20 ga.
Max. Bending Length - 12"
Slot Openings - 3/4"
Max. Opening Between Jaws - 1 1/2"
Floor Space - 24" X 29"
Overall Height - 39"

Tin Knocker No. 99 Letter Brake
Make can letters and more! Designed to bend sheet metal strips with one or more bent up edges or existing seams. Can also bend 12' of straight sheet metal. Foot operated clamping leaves both hands to handle the material.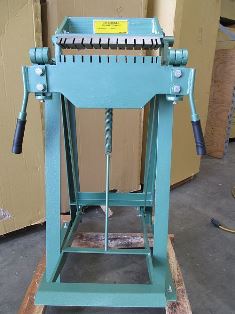 Specifications:
Capacity: 20 Ga Mild Steel
Approx. Dimensions: 48"x48"x46"
Approx. Footprint: 25"x22"x42"
Weight: 190 lbs.
Return to the New Machinery Page
Return to the Home Page