Norlok | Clinching/Fastening Systems | Norlok Surelok Fitting Machine

Norlok Heavy Duty SURELOK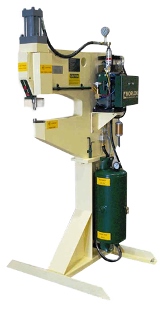 Available in 18" or 25" throat, the Heavy Duty SURELOK model provides the ultimate strength to ensure all of your heavy material applications are taken care of. This air over oil booster powered machine can clinch material up to an astounding 10g.
Description:
Available in 18" or 25" throat depths
Typical shear strength for 2-ply 10g mild steel is 1400lbs per clinch
Fasten materials as thin as 24g and as thick as 10g
A double foot pedal controls the 1-1/2" low-pressure approach stroke and 1/2" high- pressure clinching stroke for added safety
Specially designed arm and form for even greater part access
Uses standard shop air supply. No electrical hookup.
Small footprint
Features of the Norlok Surelok Fitting Machine:
Press Design: Solid 3" steel "C" frame

Features:

Air over oil intensifier unit
Air surge tank and regulator
Dual foot pedal operated

Stroke: 2" max., ½" high pressure
Throat: 18" or 25"
Work Height: 45"
Upper Tooling:

Quick change punch
Hardened steel punch stripper

Lower Tooling Die insert in a 2-piece hardened die plate
Capacity MAX: Two ply 0.138" mild steel
MIN: Two ply 0.028" mild steel
Air Requirements 60psi to 80psi 65psi (recommended)Approx. 0.8 cu ft free air per cycle (3 HP @ 20 clinches per minute)
Norlok SURELOK II - E & P Series Fitting Machine
SURELOK II – E & P SERIES
The standard floor mounted machines are guaranteed to outperform the competition. The SURELOK II - E series machine is our basic entry level machine that offers proven clinching technology.
The SURELOK II - P series is our production oriented machine. Successor of our SURELOK II - E series machine, the P series offers greater clinching versatility and is able to fasten material from as thick as 14 gauge to as thin as 32 gauge. Proven clinching technology you can count on.
The SURELOK II - E and P series' operating features and versatile designs offer solid and reliable machines that become your go-to clinching solutions.


Features of the Norlok Surelok II Fitting Machine:
Rigid steel frame offers less deflection for longer tool life
Close tooling access to get in close for more applications
Fast cycle times for increased production
18" or 25" throats for greater reach for larger parts
"Intelligent" safety stroke for greater operator safety
Direct acting power stroke for more reliable joints
Simple tool adjustments for little or no setup time
Adjustable stroke that reduces pinch point and air consumption
Upgradeable feature allows you add what you need, when you need it
23 years of design experience with proven reliability and quality
Air powered (requires no electrical hookup)
Affordable prices for low investment and faster payback
Options of the Norlok Surelok II Fitting Machine:
Production punch assembly
Modular tooling assembly
Automatic return
Advanced power Unit
Extended warranty
High speed control
Laser pointer
Pipe Diameter 4"Ø Reach into pipe 6"
Pipe Diameter 5"Ø Reach into pipe 11"
Standard Features for the Norlok Surelok II Clinching / Fastening Machine:

Throat 18" or 25" Choose the depth of frame behind punch
Urethane punch assembly Reliable tooling with urethane stripper
Close reach lower arm Clinch in tight areas – also great for pipes
2 piece die holder and insert Fast to change and easy to clean
Adjustable stroke Adjust open height to minimize pinch point
"Intelligent" Safety stroke Reduces pinch point to less than 1/4" even with 1" stroke
Lexan guard Eye protection without restricting access
Air surge tank Minimizes the effects of poor air supply
Air filter / regulator Nothing to add – just plug your air line into the tank
Frame mounted tool kit All tools required for adjustments are included
Norlok SURELOK III Clinching Machine
SURELOK III
Introducing Norlok's newest floor mounted problem solver with a 25" throat. The new SURELOK III is designed for all clinching applications and is faster, smoother, quieter and uses less air than ever before. This stainless steel ready machine offers a no hassle 2 minute changeover for efficient operation and production.

Description:
25" throat
Stainless steel ready with simple punch and die changeover
Clinches material with 5 tons of force smoothly and efficiently using only 90psi shop air.
Tooling adapters designed for sheet metal work that needs a 5 ton press.
Adjustable 2 1/2" stroke
Convenient adjustment for accuracy and safety
Self Piercing Rivet kit available for any SURELOK III to join aluminum composite materials, TPO and PVC coatings. No pre drilled holes required.
STANDARD FEATURES:

Throat: 25" Choose the depth of frame behind punch
Round Punch: Comes with 1 punch, 3 Dies, Punch Stripper, and Die Collar
Close reach lower arm: Clinch in tight areas – also great for pipes
2 piece die holder and insert: Fast to change and easy to clean
Adjustable 2 1/2" stroke: Adjust open height to minimize pinch point
"Intelligent" Safety stroke: Reduces pinch point to less than 1/4" (6.4mm) even with 2 1/2" (64mm) stroke.
High speed control: 1 touch operation with increased speed & reliability
– includes pressure sensing circuit.
Laser pointer: Shows where clinch will be made – easy to use
– meets all regulations for laser pointers.
Air Filter / Regulator / Shutoff: Nothing to add – just plug your air line into the shut off valve
Extended Warranty: standard warranty is 3 years (punches and dies excluded).

OPTIONS:

Rectangular Tooling (for Stainless Steel, non-rotating, and Multi layer applications)
1 Complete Set of tooling for 0.12" (3mm) Rectangular clinching.
Includes a Punch Stripper for Rectangular Punch and a Die Collar for Rectangular Die.

Reversible Tooling (Punch or Die mounts in upper or lower tooling)
1 Set of tooling as either Ø0.18 Round (4.6mm) or 0.12" (3mm) Rectangular clinching.
Includes a Punch, Punch Stripper, and Tooling shaft. [Dies sold separately]
Return the the Norlok Main Page

Return to the Home Page