Used Machinery
Used Air Compressors

Used Autobrakes / Sheet Metal Folders

Used Bar Folders
Used Sheet Metal Brakes

Used Cheek Benders

Used Cleat Benders / Cleat Folders

Used Clincher / Fasteners

Used Coil Lines

Used Corner Inserter Machines

Used Crimping / Beading / Rotary Machine

Used Drill Press
Used Duct Beading Machine

Used Duct Insulation Liner Cutters

Used Flangers / Flanging Machines

Used Gorelockers / Elbow Machines

Used Grinders

Used HVAC Accessories
Used HVAC Duct Insulation Pin Spotters

Used Ironworkers

Used Laser Cutting Machines
Used Pipe Equipment

Used Pittsburgh Seamers

Used Plasma Cutting Machines

Used Press Brakes

Used Punching Machines
Used Sheet Metal Rolls

Used Roll Formers

Used Saws

Used Sheet Metal Shears

Used Sheet Metal Slitters

Used Spiral Machines

Used Welders
Norlok | Portable Machines | Clinching / Fastening Systems

Norlok Medium Duty Watson Clinching/Fastening Machine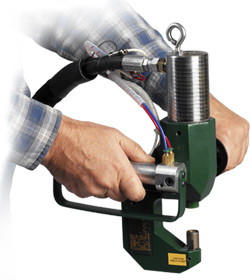 The Medium Duty Watson from Norlok Technology offers all the benefits of clinching in a lightweight version that gives you the portability you need. This compact clinching machine is easy to handle, requires only shop air to operate and can fasten up to two ply 14 gauge material.
Features:
Lightweight for great portability
Safety stroke for greater operator safety
Simple tool adjustments for little or not setup time
Close tooling access to get in close for more applications
Can fasten up to 2-ply 14 gauge material.
Air powered hydraulic booster
Easy maintenance for less down time
Competitively priced for low investment and fast payback
Fully customizable designs to fit your needs
Norlok Slip-On Flange Watson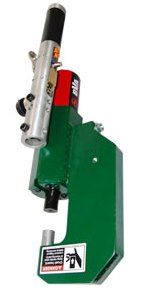 A more light-weight version of the Medium Duty Watson, the Slip-on Flange Watson is a commonly customized machine that ensures accurate clinching up to 3-ply 18g. The Slip- on Flange Watson model eliminates painful rivets, nails or screws during clinching.
Description:
No consumables
Clean operation
Safe handling parts for operators and installers
Air powered
Consistent connections
Clinch up to 3-ply 18g
Fastens easy to clean ductwork
Stainless steel capable
Features & Options:
Press Design Single steel C-Frame
Operation Dual Trigger – with toggle to close height
Power Air over oil intensifier
Return Pressure sensing (adjustable) 24 vDC
Stroke 1-1/2" (38mm)
Throat 1.56" (39mm)
Weight (Hand tool only) 19 lbs (8.7kg)
Capacity Max: 3-ply .055" (1.4mm) or total thickness of .150? (3.8mm)
Cycle time 50 CPM standard @ 1/4" opening
Air requirements 70psi min (80psi recommended) Approximately 0.8 cu/feet per cycle
Power requirements Any international supply within 120 – 240 VAC 50/60 HZ
Hanging Optional spring balancer available
Norlok Heavy Duty Radius Machine
The Heavy Duty Radius machine is your portable sidekick to take care of the toughest fastening projects. This portable tool is designed for maximum flexibility and offers a strong round or rectangular clinch that can fasten up to 1/4" total thickness of mild steel, aluminum, copper, zinc and various other alloys.
Description:
Hole punching available up to 7/16"
Option to clinch up to 18g stainless steel (with select punches and dies)
Sturdy, rigid punches and dies give low tool consumption and minimal operating costs
No separate fasteners to buy, sort or feed
No thermal stress around the joined area
Very good consistency of the joint
Rapid, non-destructive testing of the joint
Ideal for large workplaces
Idea for joining more than two layers
Fastens pre-painted or galvanized material
Fastens stainless austenitic steel
Fastens materials with foils or adhesive intermediate layers
Fully customizable frame offering different strokes, throat depths and hanging arrangements
Single stroke or dual stage approach stroke available
Widest range of clinching available (2-ply 30g – 2-ply 10g)
High speed booster available (double the speed)
Features & Options:
Workhead weigh:t 46 lbs
Total weight, inc. Booster: 116 lbs
Working air pressure: 80 psi
Hydraulic pressure at 6 bar: 2,000 psi
Cycle Time: 1.5-2.0 s
Max thickness, mild steel: 0.250"
Norlok EZ Clinch Clinching Machine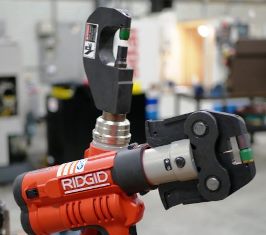 The most compact and lightweight portable equipment that Norlok offers. The EZ Clinch™ is simple, light, and easy. This clinching machine is easy to handle and use.
Features:
Lightweight for great portability
Simple tool selection for material combination
Close tooling access to get in close for more applications
Can fasten up to 2-ply 16 gauge mild steel.
18v battery power pak
Competitively priced for low investment and fast payback
Customization possible
Return the the Norlok Main Page
Return to the Home Page