Used Machinery
Used Air Compressors

Used Autobrakes / Sheet Metal Folders

Used Bar Folders
Used Sheet Metal Brakes

Used Cheek Benders

Used Cleat Benders / Cleat Folders

Used Clincher / Fasteners

Used Coil Lines

Used Corner Inserter Machines

Used Crimping / Beading / Rotary Machine

Used Drill Press
Used Duct Beading Machine

Used Duct Insulation Liner Cutters

Used Flangers / Flanging Machines

Used Gorelockers / Elbow Machines

Used Grinders

Used HVAC Accessories
Used HVAC Duct Insulation Pin Spotters

Used Ironworkers

Used Laser Cutting Machines
Used Pipe Equipment

Used Pittsburgh Seamers

Used Plasma Cutting Machines

Used Press Brakes

Used Punching Machines
Used Sheet Metal Rolls

Used Roll Formers

Used Saws

Used Sheet Metal Shears

Used Sheet Metal Slitters

Used Spiral Machines

Used Welders
Pin Spotters | pin spotting machines
Choose A Brand: Duro Dyne Pinspotters | Gripnail Pinspotters
Duro Dyne Pinspotters

Duro Dyne Model MF-12A Pinspotter
Duro Dyne's MF has been the standard for entry level "through insulation" welders for over 30 years. Proven performance and high reliability have made the MF a "Must Have" for any sheet metal shop which does occasional insulating. Duro Dyne now introduces the MF-12A, building on that history, and creating a new pinspotter with greater power and versatility. Special design welding transformers allow the MF12A to deliver more power, precisely timed to the welding tip. The MF-12A will weld pins from ½ inch to 4 inches long on steel from 26 to 20 gauge. Proven solid-state weld control circuitry guarantees years of reliable, trouble-free service in your shop
Specifications:
ELECTRICAL: Input voltage: 208-230 V 60 HZ, single phase. 60 amp service
DIMENSIONS: Height: 11 inches, Width: 11 inches, Depth: 17 inches
Weight: 120 Lbs.
PUT THE MF-12A TO USE IN YOUR SHOP AS A BENCH TOOL: To use your work bench as a welding table, cover the bench top with a copper sheet (.025). Set the MF-12A on the bench top. Attach the MF-12A ground clamp to the copper sheet and it will act as a permanent ground when the duct rests on the bench top. Pins quickly weld every time. No burn marks or wasted pins due to misfires.
BRING THE MF-12A TO THE WORK: When duct is too large to put on a bench, snap the ground clamp onto the duct and secure the insulation quickly by welding pins inside or outside of the duct as required. Eliminate the heat mark on the duct by using the simple "heat sink" on the opposite side of weld
HOW FASTENERS ARE INSTALLED:
1. The needle sharp point enables the operator to easily push the fastener through the insulation into firm electrical contact with the metal duct.
2. Welding current is supplied by pressing the trigger switch on the gun. Current flowing through the fastener's high resistance point of contact creates instantaneous welds of extremely high strength.
3. The flow of metal during the weld, firmly attaches and supports the fastener. It prevents breakaway while handling ducts during transport and installation.
4. No burn marks or discolorations of duct occur when using the recommended method of insulation fastener attachment. Fasteners are permanently welded in position flush with insulation.
FEATURES:
Compact design for easy handling
Standard 10 foot gun cable and 10 foot ground cable
"Easy read" weld timer for precise control
Panel mounted test switch and indicator lights for easy troubleshooting.
Proven Solid State controls
For use with FTC, CP, SSP, BDEP, CTC, PN* & LN* weld pins
(*Change tip from TP8 to TP2 for PN, and to TPL2 for LN)
Duro Dyne Pinspotter Model PBF 520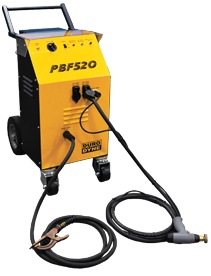 The PBF520 Portable Pinspotter features a multi-tap transformer allowing it to deliver precise, timed, low voltage to the welding tip for precision welds. This machine will weld pins from ½ inch to 4 inches long on steel from 26 to 16 gauge. A new, innovative, ergonomic, high impact gun allows more flexibility during operation. Proven solid-state weld control circuitry guarantees years of reliable, trouble-free service in your shop.
Features:
Heavy-duty caster wheels allow easy movement in the shop
Hi/Lo power selection via two weld cable power ports provides
adjustment for different welding conditions
Standard 16 foot gun cable and 11 foot ground cable.
Gun Cable is extendable to 24 feet with optional extension set (Item # 27054)
Ergonomic, high impact weld gun allows more flexibility
"Easy Read" weld timer adjustment for precise control
Panel mounted test switch and indicator
lights for easy troubleshooting
Proven Solid State Control Circuitry
Specifications:

ELECTRICAL:
Input voltage: 208-230 V 60 HZ single phase. 100 amp service

DIMENSIONS:
Height: 37 inches
Width: 17 inches
Depth: 26 inches
Duro Dyne Model FG MACH III Pinspotter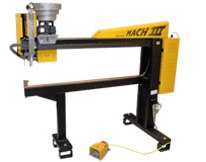 The FG Mach III Pinspotter was designed utilizing the best of current technologies to provide greater power and reliability for insulation fastening. The inherent minimal material handling and the use of welded pins will insure your shop a cost efficient, quality product. Our upgraded FG Mach III machine is capable of welding pins up to 4" to address the higher R-value insulation now being specified throughout the industry.
Features:
MINIMIZED FASTENING TIME: With a simple press of the footswitch, a weld pin is pressed through the liner and welded to the sheet metal in a fraction of a second. The welding tip then retracts and another pin is automatically fed into position.
SUPERIOR HOLDING POWER: Only through welding can the fastener become united with the sheet metal. Fastener failure during fabrication, transport and installation is eliminated.
CONTROL REDUNDANCY: Features two electronic weld relays. Should one fail during a job a simple flip of a switch puts the backup online so you can continue working while waiting for a replacement part.
MEETS SMACNA SPECS: The welded fastener fully meets specifications as outlined in the SMACNA manual.
EASY CONTROLS: One adjustment sets the weld and dwell times for perfect welds every time. A digital display provides easy reference to settings for repeatability. A central located weld cycle indicator confirms power to the transformers on each cycle.
PIN AND TIP: Pins are magnetically held by the upper electrode ready to be pressed through the insulation and welded to the duct in a fraction of a second.
FOOTSWITCH: The footswitch frees the operator for handling of small fittings and odd shapes. It features a protective covering to minimize the accidental
actuation of the machine. 16 foot cable length.
HOPPERS: A specially designed heavy duty vibrator parts feeder for weld pins up to 2". Pins are automatically supplied to the track.
FEEDING TRACK: A tested gate design feeding track insures jamless feeding of pins. Costly double feeding is eliminated.
FEED TRACK SENSOR: An electronic sensor controls the vibrator to assure a full track of pins.
COMPONENT TRAY: The solid state pneumatic head design provides extremely reliable operation with a minimum of components. Repairs, should
they be required, are performed by modular component replacement. 24 volt circuitry provides for safe maintenance and ease of operation.
OPERATIONS DISPLAY: This helps identify the source of a problem should the pinspotter fail to properly perform. Lights give you a clear indication of electrical
flow of the various circuits and components during use. Simply press the footswitch and note which lights fail to illuminate.
Specifications:
Electrical: Input voltage: 230V, 60 Hz single phase, 60 amp service.
Air Requirements: Input pressure of 80 psi.
Throat Size: A 69" throat allows fasteners to be placed up to 1.5" from edge of work without repositioning.
Pin Capacity: The vibrator bowl holds approximately 1,000, 1 inch fasteners. Fasteners of .5" to 2" in length may be fed automatically. Manual feed available for up to 4" pins.

Duro Dyne Model MACH III RH Rolling Head Pinspotter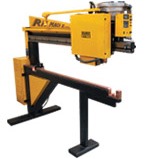 RH MACH III welds BDEP, CTC, SSP, CP & FTC type fasteners to ductwork up to 18 gauge. It requires 220v, 50 to 60hz service, fused for 100 amps. A source of 85 psi air is required. Position a fastener over the insulation and depress the trigger switch. The machine inserts the fastener through the insulation and welds it to the steel.
Features:
TROUBLE-FREE MOVEMENT: Precision polished and hardened tracks combined with ground bearings, assure trouble-free movement of the trolley assembly.
SOLID-STATE COMPONENTS: Components proven under rigorous shop usage, control the pneumatic and weld circuitry. Few adjustments are required.
CONVENIENTLY LOCATED CONTROLS: One knob adjustment sets the weld and dwell times for perfect welds every time. A digital display provides easy reference to the settings for repeatability.
WELD CYCLE INDICATOR: A centrally located weld cycle indicator confirms power to the transformers on every cycle.
OPERATIONS DISPLAY: Your RH Mach III Pinspotter is provided with an Operations Display to help identify the source of the problem should your pinspotter fail to perform properly. Watching these lights will give you a clear indication of the electrical flow of the various circuits and components during use.
Simply press the footswitch/ handgun and watch to see which light fails to illuminate.
DUAL SOLID STATE CONTROLS: The RH Mach III features two electronic weld relays. Should one fail during a job a simple flip of a switch puts the backup online so you can continue working while waiting for a replacement part.
ELECTRONIC FEED TRACK SENSOR: An electronic sensor controls the vibrator to assure a full feed track of pins when ready for welding. Reloading is
as easy as positioning the trolley assembly at the front of the machine.
MULTI-TAP TRANSFORMER: The new multi-tap transformer allows for 8 different power settings to accommodate a wider range of welding capabilities more
efficiently.
18 GAUGE CAPACITY: With a custom designed high powered transformer, the RH will weld up to 4'' pins to 18 gauge effortlessly.
PNEUMATIC BRAKE: A pneumatic brake cylinder locks the rolling assembly in position during weld cycle to ensure a quality weld.
PROTECTIVE HARNESS: A specially designed flexible harness protects the air line and weld cable from incidental damage and assures fatigue-free movement.
FIXED HEAD FOOT PETAL WELDING: To convert the RH for fittings, draw the welding tip to open end of frame and slide the quick release pin into position locking the weld tip over the fittings mandrill.
FOOTSWITCH: The footswitch frees the operator for handling o f small fittings and odd shapes. It features a protective covering to minimize the accidental actuation of the machine. 16 foot cable length.
BALL TRANSFER: Roller feed tables with ball transfers adjoining the RH enable work to be easily positioned by the operator; in many cases with just one hand. Productivity is increased and worker fatigue minimized. Ball Transfers DD Item #27025 Code: BT100
An optional machinery lift kit is also available for a custom ergonomic work space. Item # 17135
Code: FG/RH Lift Kit Multi-Height Pinspotter Lift Kit. Will allow for height increase of 4'' or 6''
Specifications:
Input voltage: 230V, single phase, 60 amp service.
Air Requirements: Input pressure of 80 psi.
Throat Size: A 60" throat allows fasteners to be placed up to 1.5" from each edge of a 5' sheet without repositioning.
Rib Pin Capacity: The vibrator bowl holds approximately 1,000, 1" fasateners. Fasteners of .5" to 2" in length may be fed automatically
Return to the New Machinery Page
Return to the Home Page