Used Machinery
Used Air Compressors

Used Autobrakes / Sheet Metal Folders

Used Bar Folders
Used Sheet Metal Brakes

Used Cheek Benders

Used Cleat Benders / Cleat Folders

Used Clincher / Fasteners

Used Coil Lines

Used Corner Inserter Machines

Used Crimping / Beading / Rotary Machine

Used Drill Press
Used Duct Beading Machine

Used Duct Insulation Liner Cutters

Used Flangers / Flanging Machines

Used Gorelockers / Elbow Machines

Used Grinders

Used HVAC Accessories
Used HVAC Duct Insulation Pin Spotters

Used Ironworkers

Used Laser Cutting Machines
Used Pipe Equipment

Used Pittsburgh Seamers

Used Plasma Cutting Machines

Used Press Brakes

Used Punching Machines
Used Sheet Metal Rolls

Used Roll Formers

Used Saws

Used Sheet Metal Shears

Used Sheet Metal Slitters

Used Spiral Machines

Used Welders
Saws | Sheet metal cutting saws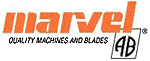 MARVEL 8 MARK II Bandsaw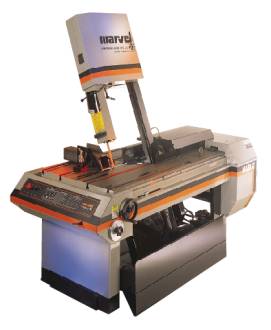 Marvel's Series 8 Mark II Sheet Metal Saws - Our most popular bandsaw, a truly universal machine capable of making virtually any conceivable straight or miter cut (45° right & left). High Column also available in the Series 8 Mark II Bandsaw.
Specifications For The Marvel Series 8 Mark II Bandsaw:
Horizontal Capacity Standard Column 18" (457mm) High Column 18" (457mm)
Vertical Capacity Standard Column 22"(560mm) High Column 28"(712mm)
Vertical Capacity @45 Deg. Standard Column 12 1/2"(324mm) High Column17"(432mm)
Blade Dimensions Standard Column 14'-6" (4420mm) High Column 15'-6" (4724mm)
Wheel Diameter 18" (457mm)
Max. Vise Opening 21" (533mm)
Coolant Motor 1/4 HP (.2 kw)
Coolant Capacity 20 Gal. (78L)
Blade Drive Motor 2 HP (1.5 kw)
Blade Speed 50-450 FPM (15-137 M/MIN)
Feed Force 0-140 lbs (0-64 kg)
Dake Saws
These Dake Technics And Super Technics Cold Saws have heads that rotate 45º right and left of center. The Dake Cold Saws also have an adjustable hinged pivot, a cam-activated vise with gib adjustment and anti-burr arm (except 250), and a mechanical coolant pump with flow control adjustment. Dake's Model 350 features an adjustable clutch, three speeds, and will rotate to 90º for slot cutting operations.
Dake Saw - Model - Cut 250 Specifications:
voltage -*110-volt ...
maximum blade diameter (inches) -10
motor (hp) - 1.2
speeds (rpm) -44
work height (inches) -37
overall front to back head up (inches) -35
height (inches) -61
floor space (left to right) (inches) -21
floor space (front to back) (inches) -20-1/4
solid round 90° capacity (inches) -1-1/4
solid round 45° capacity (inches) -1
tube 90° capacity (inches) -2-3/4
tube 45° capacity (inches) -2-3/8
square 90° capacity (inches) -2-1/2
square 45° capacity (inches) -2-1/8
rectangle 90° capacity (inches) -3-7/8x1-3/4
rectangle 45° right capacity (inches) -2-1/2x1-7/8
weight (pounds) -378