Engel TDF Rollformer | tdf rollformer
Engel TDF-V 16 Station Rollformer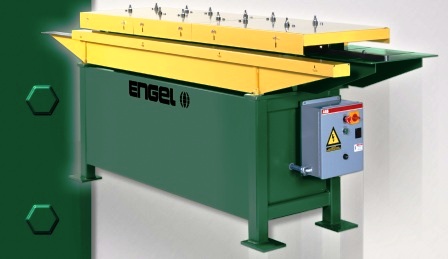 Specifications For This Engel TDF-V 16 Station Rollformer:
no adjustments when going from 26 gauge to 18 gauge material
16 gauge transverse duct flange
includes patented tDF flange rolls with outboard shafts for optional auxiliary rolls
line speed : approximately 75 fPM
Engel TDF Roll Former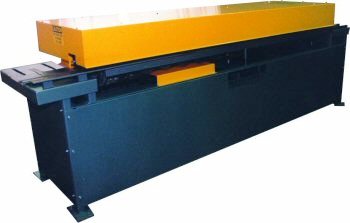 Engel's HB-1640 Roll Former when equipped with TDF® tooling, produces our patented TDF® flange on straight duct work and fittings. The sixteen stations produce the highest quality flange in the industry.
Engel model HB 1640 TDF Rollforming machine has sixteen (16) forming stations that produce an integral flange on straight ductwork and fittings. There is no need for adjustent on this TDF Roll Forming Machine when changing from 16 to 26 gauge material. With a 7.5 HP 230/460 volt motor this Model HB-1640 TDF Machine can produce a speed of approximately 75FPM (feet per minute). The corners "snap" in without the need of crimping your duct work. Engel's TDF Rollformer has a small parts feeder which is included for parts with a minimum length of 6 inches. To suite your HVAC shop needs there is one set of outboard tooling and one set of inboard tooling that can be added to this Engel Model HB-1640 TDF Rollformer.
Models Available For Engel's TDF Roll Forming Machines
Engel Model HB 1246 TDF Rollformer
Engel Model HB 1640 TDF Rollformer
Click Here For Rollformer Tooling Profiles
Return to the New Machinery Page
Return to the HOME PAGE