Tennsmith LM Series Mechanical Shears | Sheet Metal Shears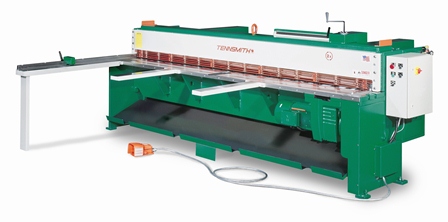 TENNSMITH'S LM Series mechanical shears utilize a simple low maintenance design, coupled with an array of standard features for an attractive combination of high value and solid performance.
The LM Series incorporates the unique 2x back gauge system. This allows the operator to move the backstop from 0 to 30 inches in approximately 2 seconds with only two rotations of the handle. An optional digital readout is available for this system.
The LM Series shears are standard with four-edge, high carbon, high chrome top and bottom blades , independent, self-leveling hold down feet with neoprene inserts, single, continuous and jog stroke cycles, motor reverse switch, precision-machined table with hand well, dual inch/metric inlaid bed scales and non-metallic gibs.
The LM Series will handle 10 - 14 gauge mild steel, 14 - 18-gauge stainless steel and 121 - 145 inches in cutting length. To enhance productivity, optional equipment available for the machine includes: five or ten-foot squaring arm, front support arms, light beam and protractor attachments. Please contact Tennsmith for a complete listing of optional equipment. The LM Series also has available an air operated sheet support system. This system is available in two styles: System-R drops the support material to the rear of the machine; System-F returns the supported material to the front of the machine via a front return chute.
Machines Are Standard with 220 Volt or 440 Volt 3 Phase 60 Hz Electrics
The LM Series shears are available in a reduced price "Performance Package" configuration.
The Performance Package includes:

A Five Foot Squaring Arm
A Pair of Front Support Arms
Air Operated Sheet Support System
Performance "R" system is for rear return, Performance "F" system is for front return.
Available in: LM412, LM610, LM810, LM1014, LM1214

OPTIONS:

Squaring Arm, Five Foot with Dual Inlaid Inch/Metric Scale
Squaring Arm, Ten Foot with Dual Inlaid Inch/Metric Scale
Additional Flip-up Stops for Squaring Arm
Front Support Arms, Pair
T-Slotted Table with Two Front Support Arms with Inlaid Inch/Metric Scales
Additional Flip-up Stops for T-Slotted Support Arms and Table
Power Go-To Back gauge 30 Inch Travel
Protractor Attachment
Work Shadow Light LM Series
Stroke Counter for LM Series (Electro-Mechanical)
Digital Readout for 2x Back gauge System
Increased Cutting Speeds

Return to the New Machinery Page
Return to the Home Page