Akyapak Model AHS Hydraulic
Four Roll Plate Bending Machines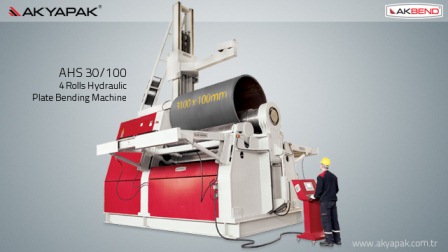 Design & Standard Features of the Akyapak Model AHS:
Design:
• Four Roll design, reducing end flat, permitting single part entry and providing ease of plate alignment against side roll.
Drive:
• Top and pinch rolls individually driven via planetary gear reducers and hydraulic motors
• Automatic surface speed compensation between top and pinch rolls
• Drive protected against overload by relief valves
Electrics & Motors:
• Electric motor is totally enclosed, fan cooled type.
• Motors and other electrical equipment operate on 240/3/60 or 480/3/60 volts
• All operator controls are low voltage
Digital Readouts:
• Two digital readouts are provided, indicating precise position of the two adjustable side rolls.
Roll Adjustment:
• All three adjustable rolls are independently, hydraulically adjustable via push button on the operator's console
• Leveling system insuring parallelism of all three adjustable rolls
• All three adjustable rolls have the ability to tilt, controlled directly from console
(Optional cone rolling attachment must be purchased to tilt rolls)
• Pinch roll set to adjustable pinch pressure
Roll Rotation:
• Machine supplied with two speed rotation, controlled by selector switch on operator's console.
Bearings:
• All roll journals are mounted in roller bearings reducing friction and maintenance
Drop End:
• Hydraulically operated drop end (hinge) controlled from operator's console
• Top roll raises when drop end is lowered for ease of part removal
Operator's Console:
• All operator machine functions located in movable type console
• Functions include; roll adjustment, roll rotation, roll rotation speed, open / close of hinge and digital readouts.
• All roll movements are controlled by push buttons.
Safety:
• Emergency stop cable around perimeter of machine.
• Emergency stop button on operator's console.
• Fixed steel guard around drop end.
• Instant braking of roll rotation when pushbutton is released.
Model AHS 25/16 Specifications: (Hydraulic Four Roll)
• Diameter of roll:
Top Roll:…………………..................... 13.40"
Side Rolls:……………………………... 11.25"
• Rolling Speed:…………………………………. 13' per min.
• Rolling Tread:…………………………………. 100"
• Horsepower:…………………………………… 20
• Machine Dimensions:…………………………. 201" L x 75" W x 72" H
• Approximate Machine Weight:……………….. 28,000 pounds
Pre-bending and Rolling Capacities:
Machine capacities when forming "mild steel" having 36,000 PSI yield
• Pre-bending Capacity: .625" x 8' to a 20.1" minimum diameter
• Pre-bending Capacity: .750" x 8' to a 67.0" minimum diameter
• Rolling Capacity: 1.00" x 8' to a 67.0" minimum diameter
Machine capacities when forming materials having 54,000 PSI yield
• Pre-bending Capacity: .500" x 8' to a 21.1" minimum diameter
• Pre-bending Capacity: .625" x 8' to a 84.0" minimum diameter
• Rolling Capacity: .800" x 8' to a 68.0" minimum diameterModel AHS 25/20 Specifications: (Hydraulic Four Roll)
• Diameter of roll:
Top Roll:…………………..................... 14.50"
Side Rolls:……………………………... 11.62"
• Rolling Speed:…………………………………. 13' per min.
• Rolling Tread:…………………………………. 100"
• Horsepower:…………………………………… 25
• Machine Dimensions:…………………………. 210" L x 83" W x 78" H
• Approximate Machine Weight:……………….. 39,000 pounds
Pre-bending and Rolling Capacities:
Machine capacities when forming "mild steel" having 36,000 PSI yield
• Pre-bending Capacity: .750" x 8' to a 21.8" minimum diameter
• Pre-bending Capacity: 1.00" x 8' to a 72.5" minimum diameter
• Rolling Capacity: 1.18" x 8' to a 72.5" minimum diameter
Machine capacities when forming materials having 54,000 PSI yield
• Pre-bending Capacity: .600" x 8' to a 22.8" minimum diameter
• Pre-bending Capacity: .800" x 8' to a 73.5" minimum diameter
• Rolling Capacity: .940" x 8' to a 73.5" minimum diameter