Iowa Precision

Iowa Precision Industries, the leader in custom designed and manufactured automated coil processing systems, has the experience and proven know-how to develop systems meeting the specific goals of customers, worldwide.
Listed Below are some of the Machines available through Iowa Precison :
Iowa Precision Pro-Ductomatic®:
Rectangular Duct Beading, Notching & Shearing Lines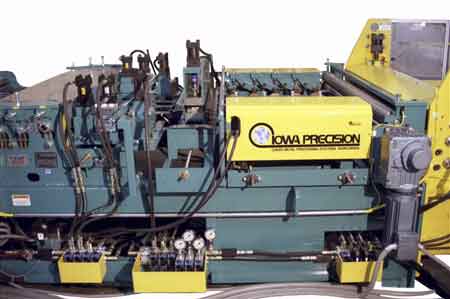 Pro-Ductomatic® (Starter Line)
The Pro-Ductomatic® is the basic machine needed for a duct shop, whether used as a stand-alone machine to produce duct blanks or as the heart of a Fabriduct® line.
The Iowa Precision Pro-Ductomatic® has the capacity to remove coil set, bead, and notch for two-piece or wrap duct, and cut off in a feed-to-stop shearing process. There is no minimum cut length or minimum on notch spacing.
PC-based controls ensure consistent quality of leg lengths and feeds.
General Specifications:
Coil width capability: 48" , 60", and 72" (1200mm), (1500mm), and (1800mm)
Galvanized or mild steel to 16-gauge
Blank length accuracy + 0.020"
Iowa Precision Pro-Fabriduct®:
Automated Rectangular Duct Forming & Fabricating Lines
Truly the most Advanced Complete Coil Line produced in the industry today. Leverages footprint, speed and production rates along with tolerances NO other HVAC coil line can match!

Most economical footprint in the world.
Fastest feed rate in the industry.
E-Z load coil drum assemblies for quick spool changeover (no lifting devises to add to your lift truck).
Soft start motors for long life.
Hydraulically powered gear driven decoiler system on each coil station with low friction UHMW shaft pockets, available in both 12,000 & 20,000 lb capacities
Multi-Grid Skate Roll System for support of every coil station.
Powered Multi Station Coil Select for hands free feeding material into the coil processor.
Industrial designed solid block die construction for a 25 year die life.
The industry's toughest and most stable frames. Structured steel tube construction-maintaining structural strength will allow accessibility for maintenance, clean up and service.
Full width contact feed rolls for positive accurate movement.
Engineered with heavy-duty left/right synchronization to stabilize cutting action and give
the lowest moving mass, thereby reducing shock and vibration during the cutting stroke.
Quiet operating system with a sound level less than 67 DB.
Shear head squaring system designed for tool free adjustment.
State of the art control designed, manufactured and serviced by Iowa Precision.
Industrial, solid-state PLC touch screen operating system controller with storage recall.
Tie Rod hole punching comes standard with both 5/16 and 7/16 punches.
Swing Knife Insulation cutting system for both fiber and non-fibrous insulation.
Solid state B & R controls with industrial quality/reliability; operator intuitive interface and graphics.
Servo driven high speed wrap brake.
Remote diagnostics and fast 24 hour service.


AVAILABLE OPTIONS: In-Line Plasma Cutting / PLC controlled Tie-Rod Hole Punching / Cold Sealant System / Hot Melt Sealant System / Welded Duct Companion Flange / Coil Line Download
Iowa Precision Cornermatic Plus®:
Corner Inserting and Crimping Machines
The CORNERMATIC PLUS® was specifically designed to address the difficulty with inserting corners into some styles of fitting ductwork. It joins other world- wide successful Cornermatics such as the Dual-Head and the Corner Cadet® in reducing shop labor. Three years in development brings to the trade a machine that can handle any TDC®/TDF® fitting assembled on a bench. The CORNER- MATIC PLUS® automatically and effortlessly inserts and crimps TDC®/TDF® corners in seconds. Lets you do a duct section (eight corners) in about 20 seconds in any gauge, 16 through 26. Generally, tests have shown 80 ducts/hour vs. 15 ducts/hour for manual insertion.
Specifically designed for the fabrication of duct fittings – even your toughest inside or outside angle off-set transition fitting from 16-26
Insert corners in off-set fittings without needing a secondary 'straight' at the flange, No other corner-inserting machine can do this!
Fully automated – no switches or foot pedals – just push in, Cornermatic® Plus™ does the Rest.
Completes (8) corner inserts in roughly 20 seconds.
New quick loading StrapPak™ packaging technology speeds loading of the new 'Universal' corner.
Corners feed from below the work-surface allowing a clean, unobstructed work
Handles tight square throat elbows and flex
Works with SMACNA-conforming, T-25a and T-25b flange and many other flanged duct systems, without changing
Three versions available,
In addition to the Cornermatic PLUS® , there is the original table mount, Cornermatic PLUS® InGround, or adjustable version, Cornermatic PLUS® Versa, that can operate at table height or down "in-floor" for better integration with the workshop environment. Bring your fitting productivity up to duct section standards!

KEY FEATURES:
- Corners are inserted square and fully crimped.
- No need to change the crimping adjustment when inserting corners in 16 to 26 gauge ducts-all automatically and 26ga corners are tight).
- Each quick loading box holds 80 corners-loads in ten (10) seconds
- Corners are shipped presorted and oriented for direct loading into the magazine.
- No need for hand sorting.
- Push the ductwork or fitting into the flange guides and the machine automatically does the rest.
- Adjustable legs to match most bench heights.
- Will handle any fitting built to SMACNA standards
- Handles particularly difficult inside angles on off-set transitions with a breeze
- Easily handles tight square throats
- Will do odd size fittings such as flex connectors and curbs

SPECIFICATIONS:
Gauge: 16 to 26 (.050" to .022" / 1,3 to 0,6mm) Mild Steel Only
Air: 85 – 100 PSI (5.5 – 7 Bar)
Electrical: 110VAC, 60 Hz
The CORNERMATICPLUS® machine will operate with all widely available Cornermatic®-type corners and with Mestek Machinery's revolutionary EZ Connector® corners for "C" and "F" flanges.
CORNERMATICPLUS® machines built after June, 2016 have a metal sleeve affixed to accept the StrapPak™ strapped corners. Those built before that date can be retro-fitted with a free metal sleeve.
Iowa Precision Whisper-Loc®:
Duct Seam Closing Machines
The quiet, automated way to close Pittsburgh seams in seconds!
Eliminate hammering to close ductwork seams
Greatly reduce noise levels and speed up duct seam closing in your shop or job site
WHISPER-LOC™ will also close both insulated and reinforced ductwork.
Seams from top and bottom to the middle to avoid run out and incomplete seaming

Machine Details:
Capacity: 18 gauge
Other: duct length 3,4,5,6 ft or 914,1219,1524,1829 mm)
Motor/Voltage: 2 HP – 220/1/60
Dimensions: (l x w x h): 96" x 35" x 32.5"
Weight: 2,400 lbs.
Horizontal Model 3456-H available up to 10' duct lengths
Iowa Precision Adjust-Amatic®:
Adjustable 4-In-1 Elbow Machine
Adding to our line of Adjustable Elbow machines is the new 4-in-1 Adjustable Elbow Machine. This precision machine produces high quality straight, articulated elbows as well as B-Vent elbows from tube blanks, which can be hand turned to any angle between 0° and 90°.
The control panel is angled for easier operator use. All of these features on ONE machine! Inquire about optional available sizes.
- New design accommodates 4 tube sizes from 5"– 8" (125mm – 200mm)
- Suitable for B-Vent off sizes
- Servo motor controlled
- High-speed Twin ball screw movement
- High-low speed control starts & stops head at low speed for longer drivetrain life without affecting product rates
- Upgraded PLC with Ethernet connection capability
- Disconnect integrated into the main cabinet for easy one point connection
Iowa Precision Tube-Amatic®:
Tube Blanking and Rolling Line for Elbows
The Tube-Matic elbow blanking line provides highly accurate punched, crimped, beaded and rolled blanks ready for processing and is an ideal companion line for the Iowa Precision Adjustable Elbow Machines. Tube-Matic models permit automatic production of elbow blanks in diameter ranges of 3 – 16 inches to 3 – 24 inches at rates up to 3,150 per hour.
A programmable controller maintains batch counts and blank cut-off lengths. All cut-off shear blades are made of premium quality, high carbon/high chrome tool steel for exceptional long-life. With Tube-Matic, the entire fabrication line is easily managed by a single operator, reducing labor requirements. Plus, all Tube-Matic lines are backed by Iowa Precision's one year guarantee.
- Automatic production up to 3,150 elbow tubes per hour from 3 to 24 inches in diameter
- Programmable controller maintains batch counts and cut-off lengths
- Long-life D2 tool steel cut-off knives
- Single operator control
Available in 2 Models:
Model AEMTM 3-16 – Automatically produces 3" to 16" (75mm to 406mm) elbow blanks at a production rate up to 1,200 per hour. Processes mild steel up to 0.030" (0,76mm) in thickness and 24" (610mm) in width.
Model AEMTM-HS 3-24 – Automatically produces 3" to 24" (75mm to 310mm) elbow blanks at a production rate up to 3,150 per hour. Processes mild steel up to 0.030" (0,76mm) in thickness and 32" (813mm) in width.
Iowa Precision Collar-Matic® and Colatch®:
Collar/Boot Attaching Machines
Collar-Matic®: Iowa Precision's Collar-Matic® Line takes the hand work out of collar production for collar/boot assemblies.
The line produces 5,6,7 or 8-in. collars with easy tooling changeovers for each diameter.
The system uses convenient 2 1/8 in. drive cleat coil stock, .013 to .015-in. thick, to form hemmed collars.
An integral parent metal locking joint eliminates the need for collar rivets or staples.
The line's rollformer hems the collar's exposed edge while maintaining the required inside diameter.
Collar-Matic® automatically produces and places the collar into the beading die, ready for collar/boot assembly.
COLATCH® Model B: This machine performs the following with foot pedal control:
Expands the boot or take-off
Grooves the collar and boot or take-off
Stabilizes the collar to boot or take-off
Models "B", "C", and "D" produce 4" through 20" diameters
Iowa Precision Plasma Table Coil Feeders:
This machine is designed to feed a plasma cutting table. It is comprised of a drive motor and a series of rolls to feed and remove coil set from the material.
The operator uses an on/off switch attached to an electrical cable to advance the material. This allows the operator to feed the material to proper location along the plasma table.
Drive is by way of entry pinch rolls, and exit pinch rolls. Straightening is accomplished with a fifth roll, which is located between the entry and exit rolls. This straightening roll is controlled by way of a hand wheel to vary the amount of flattening.
CAPACITY
Max. Gauge Capacity
16 gauge (1.5mm)
Max Width Capacity
60" (1525 mm)
SIZE
Pass Line Height
32.5" (826 mm)