Used Machinery
Used Air Compressors

Used Autobrakes / Sheet Metal Folders

Used Bar Folders
Used Sheet Metal Brakes

Used Cheek Benders

Used Cleat Benders / Cleat Folders

Used Clincher / Fasteners

Used Coil Lines

Used Corner Inserter Machines

Used Crimping / Beading / Rotary Machine

Used Drill Press
Used Duct Beading Machine

Used Duct Insulation Liner Cutters

Used Flangers / Flanging Machines

Used Gorelockers / Elbow Machines

Used Grinders

Used HVAC Accessories
Used HVAC Duct Insulation Pin Spotters

Used Ironworkers

Used Laser Cutting Machines
Used Mechanical Piping Equipment

Used Notching Machines
Used Pittsburgh Seamers

Used Plasma Cutting Machines

Used Press Brakes

Used Punching Machines
Used Sheet Metal Rolls

Used Roll Formers

Used Saws

Used Sheet Metal Shears

Used Sheet Metal Slitters

Used Spiral Machines

Used Welders
Coilines

Engel Blank-It Coiline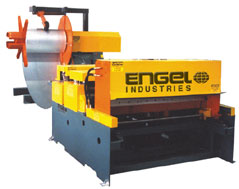 One of Engel's most economically priced lines, the Blank-It line offers a fully hydraulic flying shear with output rates approaching 100 feet per minute and allows you to shear in slow speed for precision length. Maximum capacity is 16 (1.5 mm) gauge 61" wide coil stock in mild steel. Electronic controls provide pre-set blank size and batch quantity. Powered four (4) roll straightener, and adjustable slitter section round out the system's features. Accessories include edge trim rewinders, blank stacking systems and more.
Powered infeed guide ramp available as an option.
Dual pump 10 HP Hydraulic unit completely mounted within sideplates of machinery for safety and system protection.
Hydraulic system has its own tank reservoir.
Specifications For the Engel Blank-It Coil line :
Accuracy - +/-.030
Capacity - 30 through 16 gauge Mild Steel
Strokes per minute - 40 maximum
Width capacity - 61 maximum/6" minimum
hardened infeed guides and 2 coil cradles with one belt drive is standard
slitter arbors - 5" diameter
slitting capacity - 16 gauge maximum
slitting blades are 8" diameter , high carbon/ high chrome , 3 pairs standard
shear blade - high carbon/ high chrome , 4 cutting edges
straightener - 4 roll, 4" diameter rolls, individual handwheel , adjustment for over/underfeed capability
straightener/Slitter - 10 H.P.
hydraulics - 10 H.P.
floor space (Slitter/Straightener & shear only) - 58 square ft.
controls - micro- processor , 50 batch, english/Metric plus extra features
Speed Adjustable - 10' / 100' FPM ... unit shifts to slow speed for shearing smoother and more accurate cutting, plus higher production rates on longer sheets. most blank lengths are 1/64 in length accuracy
Optional Equipment available for the BLANK IT Coiline by Engel Industries :
additional coil cradles with optional drive sytles
stacking systems
powered coil reels and coil cars
slitter blade position readout
additional slitter blade sets
Return to the Precision Machinery Page
Return to the Home Page