The Vulcan SP510 Plasma Table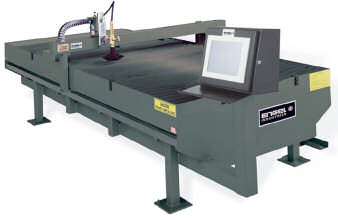 Strength & Stability of Engels Vulcan SP510 Plasma Cutting Machine
With its fixture welded 3" x 3" steel tubing framework, the Vulcan SP510 could only be made by Engel. The superior structural integrity of the frame — which we believe to be 45% stronger than any other plasma cutting system at this price point — enables the Vulcan SP510 Plasma Table to achieve unrivaled levels of strength, stability and accuracy. Of course, we could have used thin sheet metal and bolted angle iron like many of our competitors, but we refused to compromise quality to reduce costs. While some may argue that such heavy-duty construction is excessive, we believe it's essential. Without it, the highest levels of job quality and repeatability cannot be achieved.
New Technology & Innovative Design
The Vulcan SP510 Plasma Table leverages new technology to overcome the typical problems associated with twisting and stretching belts. Quite simply, the belt used on every Engel Vulcan SP510 is unlike anything seen before in the HVAC industry. Inside each compound rubber radial timing belt are 12 strands of braided steel wire in two layers — 24 strands in all. As a result, each belt delivers an incredible 1,350 lbs of pull strength per inch without stretching or buckling, making it a match for the very best rack-and-pinion systems.
Power & Precision
At the heart of Engel Industries Vulcan SP510 you'll find a sealed DC servo motor of the highest quality. No inferior stepper motors here. The Y-axis DC servo motor is linked to a 3/4" diameter steel shaft that drives both sides of the machine simultaneously. Combined with a 3" diameter x 128" long Y-axis guidance rail and a Hiwin linear X-axis bearing and way, the Vulcan SP510 Plasma Cutting Table achieves unsurpassed levels of stability, accuracy and smoothness of operation. This is important when one 1/8" can mean the difference between first-rate quality and a lost customer.
The Engel Vulcan SP510 leverages a Hypertherm plasma torch and Power-MAX 1000 power unit. As such, the Vulcan SP510 can achieve traverse speeds of 2,000 inches per minute (I.P.M.) and will cut 24-gauge G90 at 400 IPM — all to the tightest tolerances with no additional edge preparation. The Vulcan SP510 can also be coil fed with either a two or four coil system for the highest levels of productivity.
Enhanced Software & Increased Functionality
The standard software that drives the Plasma Cutting Vulcan SP510 is a significant upgrade over previous versions. New features include a newly designed operator interface, upgraded cutting software for fittings, and Microsoft's Windows® XP operating system. Now operators can input fittings at the machine on the new 15" color LCD flat panel touch screen or from connected computers in nearby offices — while the machine is cutting. It all adds up to easier operation for your staff and increased productivity for your business.