JAG Seam Closer
The quiet, automated way to close seams in less than six seconds!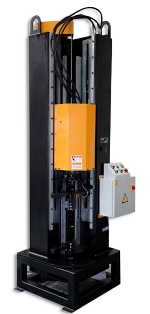 Key features and benefits:
Eliminate hammering to close ductwork seams.
Greatly reduce noise levels and speed up duct seam closing in your shop or at the job site.
Seam Closer will also close both insulated and reinforced ductwork.
Seams from top and bottom to the middle to avoid run out and incomplete seaming.
Specifications:
Capacity: 16 – 24 gauge (0.70 – 1.61 mm)
Duct Length: 1-3/4 – 6-1/2 feet (530 – 1980 mm) of material
Duct Connections: Slip & drive, raw, TDC/F and slip-on flanges
Duct Material: Galvanized mild steel, stainless steel and aluminum
Hydraulics: Self-contained 25 gallons (95 liters)
Motor: 2 HP (1.5 kw) – 220 volts, 60 cycle, three phase, AC
Dimensions: 35"L x 35W" x 111"H (890 x 890 x 2820 mm)
Weight: Machine – 2,230 lbs. (1014 kg), Hydraulic Reservoir – 330 lbs. (150 kg)
Engel Model M - 516PS - V - Pittsburgh Seam Closer
Engel Pittsburgh Seam Closer is a Hydraulic powered 16 gauge maximim capacity and is adjustable for 3' to 5' duct length. This seam closing unit closes the Pittsburgh seam quietly and accurately.
A Six foot model is also available for this Pittsburgh Seam Closer.
Specifications For The Engel Model M-516S-V-Pitts Seam Closer:
Length - 117 inches
Width - 36 inches
Gauge Range - 26 to 16 Gauge
Hydraulic Unit - 5HP
Voltage - 230 or 460/3/60
Cycle Time - 20 Seconds Typical
Return to the New Machinery Page
Return to the Home Page