tdf / TDC / TDP rollformerS

Tin Knocker TDP (TDC) Roll Forming Machine
Transverse Duct Connector Profile Roll Former
Comes Standard With: TDP Rolls, TDP Clip Rolls, TDP Clip Slitter & Feed
This 14 station roll former comes standard with the TDP/TDC rolls, clip rolls, and clip slitter. The slitter allows the user to quickly and easily turn scrap in to clips. Blanks are automatically slit to width and fed in to the clip rolls. The clip rolls can also be strip fed. The TDP/TDC roll former will roll sheet metal in to leak proof, sealable TDP/TDC flanges at speeds of up to 50 fpm. Start saving time and money by forming your own TDP/TDC flanges. With snap on corners you can reduce or eliminate the need for spot welding and an add on flange like Ductmate/Ward altogether. Check out the TDP/TDC Notcher that goes along with this machine.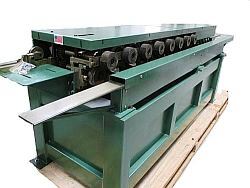 Specifications:
Capacity:
TDP/TDC: 18 - 24 Ga Pocket Depth: Uses Approx. 1-7/8" of material on TDP/TDC Speed: 50 FPM
TDP/TDC Clip (Min. Length 20"): 22 Ga. Pocket Depth: Uses 2-1/8" of material Speed: 2 1/8"
Forming Sections: 14
Shaft Diameter: 1.25"
Pass line: 38.625"
Forming Speed: 50 FPM
Motor: 10 HP, 1800 RPM, 230/460V/3PH
Weight: 2400 lbs
Dimensions: 38 x 136.75 x 46 in
Engel TDF-V 16 Station Rollformer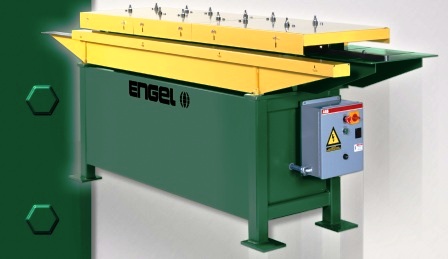 Specifications For This Engel TDF-V 16 Station Rollformer:
no adjustments when going from 26 gauge to 18 gauge material
16 gauge transverse duct flange
includes patented tDF flange rolls with outboard shafts for optional auxiliary rolls
line speed : approximately 75 fPM
Engel TDF Roll Former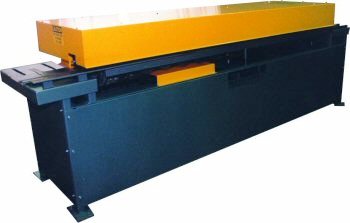 Engel's HB-1640 Roll Former when equipped with TDF® tooling, produces our patented TDF® flange on straight duct work and fittings. The sixteen stations produce the highest quality flange in the industry.
Engel model HB 1640 TDF Rollforming machine has sixteen (16) forming stations that produce an integral flange on straight ductwork and fittings. There is no need for adjustent on this TDF Roll Forming Machine when changing from 16 to 26 gauge material. With a 7.5 HP 230/460 volt motor this Model HB-1640 TDF Machine can produce a speed of approximately 75FPM (feet per minute). The corners "snap" in without the need of crimping your duct work. Engel's TDF Rollformer has a small parts feeder which is included for parts with a minimum length of 6 inches. To suite your HVAC shop needs there is one set of outboard tooling and one set of inboard tooling that can be added to this Engel Model HB-1640 TDF Rollformer.
Models Available For Engel's TDF Roll Forming Machines
Engel Model HB 1246 TDF Rollformer
Engel Model HB 1640 TDF Rollformer
Click Here For Rollformer Tooling Profiles
Return to the New Machinery Page
Return to the HOME PAGE