Used Machinery
Used Air Compressors

Used Autobrakes / Sheet Metal Folders

Used Bar Folders
Used Sheet Metal Brakes

Used Cheek Benders

Used Cleat Benders / Cleat Folders

Used Clincher / Fasteners

Used Coil Lines

Used Corner Inserter Machines

Used Crimping / Beading / Rotary Machine

Used Drill Press
Used Duct Beading Machine

Used Duct Insulation Liner Cutters

Used Flangers / Flanging Machines

Used Gorelockers / Elbow Machines

Used Grinders

Used HVAC Accessories
Used HVAC Duct Insulation Pin Spotters

Used Ironworkers

Used Laser Cutting Machines
Used Pipe Equipment

Used Pittsburgh Seamers

Used Plasma Cutting Machines

Used Press Brakes

Used Punching Machines
Used Sheet Metal Rolls

Used Roll Formers

Used Saws

Used Sheet Metal Shears

Used Sheet Metal Slitters

Used Spiral Machines

Used Welders
Akyapak Powered Rolls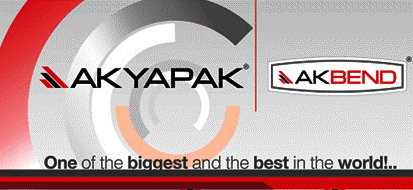 Akyapak Turkey has been actively marketing and selling its products in N. American market since mid 90s.With the introduction of higher technology products like plate, profile, tube bending machines and drilling line machines, we felt the need to increase our market presence and our customer support level therefore established Akyapak USA in early 2015. It is – and has been – the successful commitment of AKYAPAK USA to receive, quality control, install, and provide warranty and after warranty support of these imported products. We provide a local physical presence for these companies. We make ourselves available as someone you can "reach out" and access.
All our machines are known for their high reliability, easy operation, and low maintenance Every machine is tested by trained professionals, and all machines are CE certified. Easy installation is designed into every machine to ensure simple operation, quick and easy maintenance and care by the user. Entry-level operators will enjoy the minimal training requirements.
With 15,000 sq. ft. space of office and showroom area, various machines like plate and profile bending, drilling line and welding solutions machines under power, experienced sales and aftersales support personel and its convenient location in Drew Park just a couple of minutes driving from Tampa International Airport, we are ready to show you how we can contribute to your business with our high technology and competitive products.
Browse The List Below For Akyapak Roll Machines
Akyapak Model AHS Powered Rolls
Akyapak Model AS Powered Rolls
Akyapak Model ASM Powered Rolls
Return to the New Machinery Page
Return to the Home Page