Used Machinery
Used Air Compressors

Used Autobrakes / Sheet Metal Folders

Used Bar Folders
Used Sheet Metal Brakes

Used Cheek Benders

Used Cleat Benders / Cleat Folders

Used Clincher / Fasteners

Used Coil Lines

Used Corner Inserter Machines

Used Crimping / Beading / Rotary Machine

Used Drill Press
Used Duct Beading Machine

Used Duct Insulation Liner Cutters

Used Flangers / Flanging Machines

Used Gorelockers / Elbow Machines

Used Grinders

Used HVAC Accessories
Used HVAC Duct Insulation Pin Spotters

Used Ironworkers

Used Laser Cutting Machines
Used Pipe Equipment

Used Pittsburgh Seamers

Used Plasma Cutting Machines

Used Press Brakes

Used Punching Machines
Used Sheet Metal Rolls

Used Roll Formers

Used Saws

Used Sheet Metal Shears

Used Sheet Metal Slitters

Used Spiral Machines

Used Welders
Hydraulic Brakes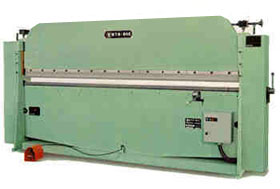 Roto-Die's unique sheet metal brakes are regarded as an industry standard in HVAC and metal fabrication shops throughout the United States. Each sheet metal brake is a versatile, economical, productive tool satisfying a wide range of sheet metal bending and forming needs. We use heavy-duty hydraulics in all of our sheet metal brakes, making bending operations quick and easy - today and for decades to come.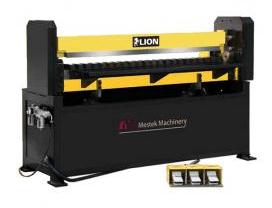 Since 1974 LION has supplied sheet metal machinery to contractors and metal fabricators worldwide!
LION sheet metal benders are SIMPLE, AFFORDABLE, and RELIABLE.
LION 1836 closed end cleat folders
LION cheek benders are available in manual double sided models.