Norlok | Clinching/Fastening Systems | Norlok ASTRACLINCH alligator line

ASTRACLINCH Alligator Line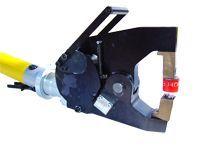 Extremely light, hand-held, articulated SPOT CLINCH® machines from ASTRACLINCH Tools, workhead weight 7-8 lbs (3.2-3.6 kg), cycle time 0.6-1.0 seconds, capacity 2x16 ga (0.120") total mild steel. Applications include stud-to-track joining in both load-bearing structures and for partition walls, and also in the HVAC sector, for enclosures, appliances and general idustrial use.
Only ASTRACLINCH, Inc. holds ICBO/ICC building code approval.
To our knowledge, no other clinching equipment supplier has obtained ICBO/ICC building code approval for its clinched joints in structural members of cold-formed profiles (see ER-5439). This code approval is valid in all seismic zones, including zones 3 & 4, and in areas of high wind loads.
Advantages of the Norlok ASTRACLINCH :
• low investment (for lower production costs)
• rigid punches & robust dies give low tool consumption & minimal operating costs
• reversible punches & dies
• manual jaw closing for maximum safety
• no separate fasteners to buy, sort or feed
• no thermal stress around the joined area
• highly consistent joint
• rapid, non-destructive testing of the joint
• low machine weight
• joining more than two layers
• pre-painted or galvanized sheet materials
Technical Data for the Norlok ASTRACLINCH :
Workhead weight 7-8 lbs 3.2-3.6 kg
Total weight, inc. Booster 28.6 lbs 13 kg
Working air pressure 87 psi 6 bar
Hydraulic pressure at 6 bar 5,260 psi 365 bar
Cycle Time 0.6-1.0 s 0.6-1.0 s
Max thickness, mild steel: 0.120" 3 mm
Max thickness, stainless: 0.100" 2.5 mm
The ASTRACLINCH Tools advantage
ASTRACLINCH , Inc. and ASTRACLINCH Tools have the most complete clinching technology on the market today, and are ready to serve any manufacturing company whose production processes involve the assembly of sheet material and profiles.
• Simple, non-destructive quality control
• Highly consistent process
• No need for screws or rivets
• Short cycle times, 0.6-1.0 seconds
• 4x faster than running screws
• Clean & silent, no sparks or fumes
• No thermal stress built in to the workpiece
• No preparation, no touch-up work
• For stainless steel, galvanized & prepainted materials
• For multiple layers of material
• For difficult-to-weld materials
• Simple compressed air power source
• Cost savings of fasteners
• The only clinching tool that has
ICBO/ICC building code approval
Return the the Norlok Main Page

Return to the Home Page