sheet metal beading and crimping Machines

Roper Whitney Pexto Combination Rotary Machine No. 622 Series
The Roper Whitney Beader and Crimping Machine Model No. 622 Series is equipped with the addition of a 7" deep throat for additional forming capabilities, such as furnace collar edging. The Roper Whitney Model No. 622 Combination Rotary machine includes a set of rolls (A, C, D, E & F) and gauges or may be ordered without rolls as Roper Whitney Model No. 622LR*(beading / crimping machine). A number of rolls may be ordered separately through Roper Whitney.

Roper Whitney Crimper Beader No. 622 Series machines include No. 975 clamp-on offset base.

Rolls Included in the R.W. Beader and Crimping Machine:

Turning
Burring
wiring
crimping
ogee bead

For roll descriptions click here
Gardner Bully Combination Crimper and Beader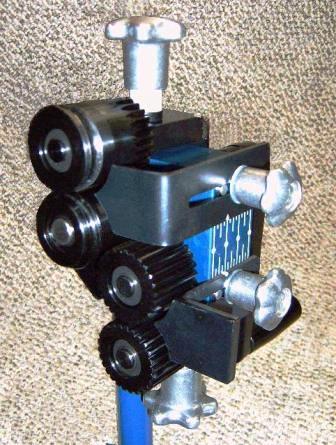 Our unique hand operated tool is now available for professional insulators and sheet metal workers. The machine is easily portable and performs both beading and crimping sequentially in one setup. All operations and setups are performed without the use of tools, and all adjustment knobs are captive. No parts can be separated and possibly lost under normal operations. Although the machine is light in weight, we have designed components and selected materials to assure long life under daily use. If the need arises, the machines can be repaired or refurbished by the factory.
Specifications and Features of the Gardner Bully Combination Crimper and Beader
Proudly conceived, designed and manufactured in the USA.
Weighs 17 pounds, easily portable, clamps onto ¾" to 3 ½" thick surfaces.
Processes most commonly used sheet materials up to .030 inch thick.
Crimp width up to 1 ½ inch.. Bead position up to 1 ½ inch from edge.
Bead sizes of ¼ inch or 1/8 inch are available. Specify L for ¼ or S for 1/8.
No tools needed and no parts to be misplaced or lost.
All rotating parts supported on self lubricating bronze bearings.
Scale and indicators on edge guides and bead adjustment knob proved setting references.
Illustrations of the Gardner Bully Combination Beading and Crimping Machine
Item A..........................Knob for pedestal clamp to bench
Item B..............Clamp knob for head pivot with pedestal
Item C.....................Bead position guide adjustment knob
Item D......................Crimp width guide adjustment knob
Item E..................................Bead depth adjustment knob
Item F................................Crimp depth adjustment knob
Item G.........................................................Crank Handle
Return to the New Machinery Page
Return to the Home Page