Betenbender Manufacturing , Inc.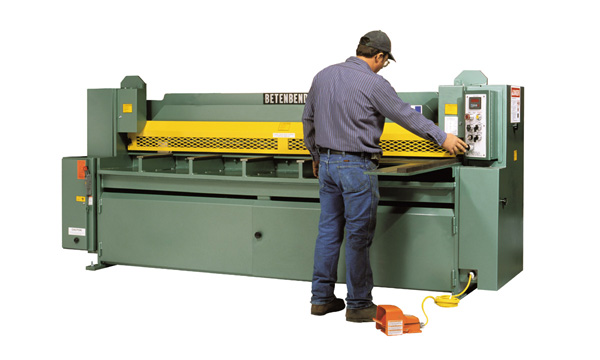 Betenbender designs simplicity and safety into its Hydraulic Shears -- with an advanced hydraulic system and flexible operation. They're easy to operate, easy to maintain and able to withstand the rigors of today's production demands.
STANDARD FEATURES FOR BETENBENDER HYDRAULIC SHEARS :
SPECIFICATIONS FOR BETENBENDERS HYDRAULIC SHEARS:
Controls: Push button and switch controls are at your fingertips. The fully guarded, 2-position 110V footswitch lets you interrupt the cutting stroke at any point in its cycle.
Easy Material Handling: A sturdy backgauge and rake angle adjustment minimizes twist and distortion. This makes it possible to increase the rake for cutting heavier stock and extend maximum capacity of the machine. A 4' squaring arm with recessed scale makes for fast, easy measurement.
Modified High Carbon, High Chrome Reversible Knives: Provide four separate edges for clean cuts and long blade life. Easy blade gap adjustment means precise cuts for a wide variety of materials.
Electrical System: Meets NFPA79 and construction requirements of the ANSI B11.4. All machines have disconnect switches, magnetic starters, 110/120 volt controls, and 220/460 voltages.
Backgauges: A Betenbender Hydraulic Shear is capable of shearing 1/8" (10 gauge) material to the following tolerance: Dimension - The width of the off-cut portion of the work- piece is within ±0.005 inch of the backgauge setting.
OPTIONS AVAILABLE FOR BETENBENDER HYDRAULIC SHEARS: