Used Machinery
Used Air Compressors

Used Autobrakes / Sheet Metal Folders

Used Bar Folders
Used Sheet Metal Brakes

Used Cheek Benders

Used Cleat Benders / Cleat Folders

Used Clincher / Fasteners

Used Coil Lines

Used Corner Inserter Machines

Used Crimping / Beading / Rotary Machine

Used Drill Press
Used Duct Beading Machine

Used Duct Insulation Liner Cutters

Used Flangers / Flanging Machines

Used Gorelockers / Elbow Machines

Used Grinders

Used HVAC Accessories
Used HVAC Duct Insulation Pin Spotters

Used Ironworkers

Used Laser Cutting Machines
Used Mechanical Piping Equipment

Used Notching Machines
Used Pittsburgh Seamers

Used Plasma Cutting Machines

Used Press Brakes

Used Punching Machines
Used Sheet Metal Rolls

Used Roll Formers

Used Saws

Used Sheet Metal Shears

Used Sheet Metal Slitters

Used Spiral Machines

Used Welders
Engel Industries value plus line | Coil Lines | coil processing
Engel VALUE PLUS 2 Coiline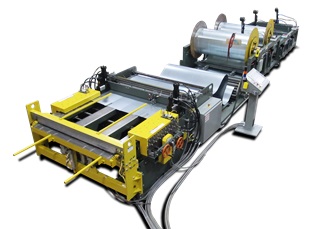 Engel Industries Value PLUS 2 Coiline systems - the workhorse of the industry - a fully hydraulic unitized compact Coiline has earned the reputation of providing one of the most accurate and reliable machines available.
Standard Features & Benefits on this Engel VALUE PLUS 2 Coiline:
In line footprint fits well in many factory layouts – saving valuable space.
One man operation. Run in automatic or on demand using a convenient foot switch.
12,000 lb or 20,000 lb belt drive or hydraulic drive Uncoilers available.
From 2 to 10 stations available.
Multi-Grid Feed systems available for easy loading.
Quick coil changeover. Extra Coil Drum Assemblies available for fast changeover of even more coil inventory.
Straighten, Bead, Notch and Shear (all standard) and Cleat Edge Former or Tie Rod Punching (both optional) all on one compact frame.
Patent Pending positioning and retention conveyor assures excellent seam profile.
Notching dies include clearance holes for use with EZ Connector system.
Rollformer comes standard with 1/2? Pittsburgh and Snaplock rolls.
TDC or TDF Rollformer available.
Lin-O-Matic/ Pinspotter available.
Wrap Brake produces 4 sided, "L", "U" and full wrap duct.
No scrap between jobs run from the same coil.
Accepts downloaded jobs from many popular software applications.
User friendly touch screen control.
Low maintenance.
Modular construction. Any option can be added later. Expand your capabilities as your business grows.
Recent Improvements:
Modified leaf, bed and clamp to bend 18 gauge
Shear head upper blade holder guiding has been improved to make it easier and quicker to change and re-gap blades.
Added Reliability with fiber optic sensor for locating part for roll forming the pittsburgh seam
Technical Specifications:
Peak Speed 75 FPM
Accuracy = +/- .020
Handles 4 & 5 foot coils
Maximum part size: 120"
Minimum part size: 17.75"
Minimum Wrap Duct produced: 6" x 6"
Minimum leg produced on "L" duct: 2"
26 ga – 18 ga Straighten, Bead, Notch, Shear, Bend, TDC/TDF, Pittsburgh
26 ga – 20 ga Cleat Edge Former, Snap Lock, Button Punch
Return to the New Machinery Page
For more coiline information click here
Return to the Home Page