Tin Knocker Cleat BenderS

Tin Knocker TK No. 24 Double Sided Cheek Bender
This 24 inch, two sided cheek bender is bench mounted and comes ready for service. Consistent bends are a certainty due to the two-way trunnion keeping the bending apron in position at the origin of the bend. Adjusts for 1/4" to 7/8" bends.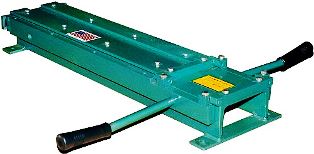 TK No. 24 Cheekbender Specifications:
Capacity: 20 Ga Mild Steel Sheet Metal
Bend Length: 24"
Note: Shims are required for 28 Ga and lighter material
Dimensions: 40"x12"x10"
Weight: Approx. 96 lbs.
Return to the Tin Knocker Machinery Page

Return to the New Machinery Page
Return to the Home Page