Tin Knocker Drive Cleat Notcher
This tool notches drive cleats giving drives a rounded end for an easier installation. Notch drive cleats before or after they are formed. Easy to use with a spring loaded push handle. This tool easily mounts to any bench.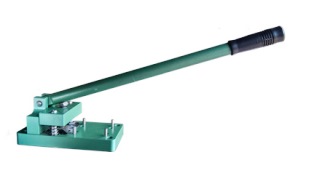 Specifications:
Capacity: 22-gauge mild steel
Machine Dimension: 21" Length x 4" Width x 10" Height
Shipping Dimension: 11" Length x 4" Width x 6" Height
Approximate Weight: 18 lbs.
Tin Knocker 1655 Manual Notcher
A heavy versatile tool capable of not only notching to capacity but also shearing and piercing operations in lighter gauge. Of heavy cast iron and fabricated construction, this table top machine comes with front gauges and surface ground table. Stand is optional.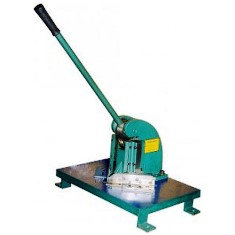 Specifications:
Weight: 170 lbs
Capacity: 16 Ga Mild Steel
Blade Length: 5"
Angle: 90 Degrees
**Optional Stand Available
Tin Knocker Hydraulic Duct Notcher
Notches up to 6 times faster than hand notching. This 5 headed gang notcher is a fast and easy way to notch sheet metal ducting, in preparation to receive bar, S Cleats and Drive Cleats…or other drive connections. QuickNotch allows you to gang-notch sheet metal hydraulically up to 600% faster than by hand, without layout or scribing. It's the perfect tool for preparing bar, slip or "s" and other drive connections.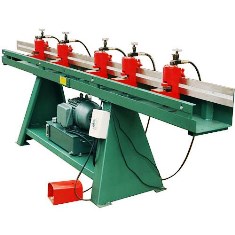 Specifications:
Weight: 880 lbs
Dimensions: 79 x 36 x 36 in
Capacity: 16 – 28 gauge mild steel
No. Notching Heads: 3 V and 2 corner, for 5 total. V Notch. 1 ½" max
Motor & Electrics: 3 HP Dual Voltage,115- 230/1/60, 1800 RPM