Used Machinery
Used Air Compressors

Used Autobrakes / Sheet Metal Folders

Used Bar Folders
Used Sheet Metal Brakes

Used Cheek Benders

Used Cleat Benders / Cleat Folders

Used Clincher / Fasteners

Used Coil Lines

Used Crimping / Beading / Rotary Machine

Used Drill Press
Used Duct Beading Machine

Used Duct Insulation Liner Cutters

Used Flangers / Flanging Machines

Used Gorelockers / Elbow Machines

Used Grinders

Used HVAC Accessories
Used HVAC Duct Insulation Pin Spotters

Used Ironworkers

Used Laser Cutting Machines
Used Mechanical Piping Equipment

Used Notching Machines
Used Pittsburgh Seamers

Used Plasma Cutting Machines

Used Press Brakes

Used Punching Machines
Used Sheet Metal Rolls

Used Roll Formers

Used Saws

Used Sheet Metal Shears

Used Sheet Metal Slitters

Used Spiral Machines

Used Welders
Tin Knocker CNC Plasma Cutting Machine | Wizard 5 X 10 Table
Tin Knocker TK Wizard 5 X 10 Plasma Table
This plasma cutting system was developed specifically for the HVAC sheet metal contractor/fabricator. Simple, rugged, and flexible, with state of the art software, but is affordably priced. Reduce material waste and operating costs to achieve higher profitability.

MADE IN THE USA!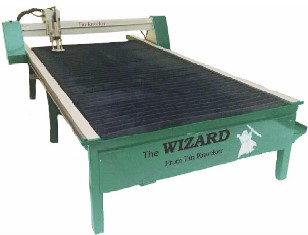 TK WIZARD CUTTING TABLE FEATURES & SPECIFICATIONS:
Heavy duty 5'x10', all welded steel construction capable of a 2000 lb load (full sheet of 1"plate)
2 1/2" x 60", 16 ga. slats for economical replacement
Efficient down draft exhaust design, activated & deactivated automatically as cutting starts & stops
Hinged clean out doors at both ends makes cleanout easy. Slat removal not necessary.
3/4" rack & pinion drives
dual hardened and ground HIWIN#20 linear guide ways
Heavy duty NEMA 34 motors that automatically square the gantry (a feature only found on Quality cutting tables.)
Direct drive, high torque motors to eliminate positioning error. "No Belts"
4"x6" thick wall tube gantry. This light weight, rigid construction means less moving weight and maximum repeatability
Gantry drive with rack & pinion and dual hardened & ground linear guide ways
repeatability of approx. .0005"
Gantry capable of speeds of 1000 IPM
Precision Drop Head Control

Torch crash protection.
PC Machine Controlled:
Machine is equipped with and controlled by a standard laptop, replaceable locally, no proprietary components. CNC control software is simple and intuitive.
Software:
Windows operating system
Shop Data HVAC software with:

Full HVAC fitting Library and 3-D viewing of parts
automatic nesting of parts minimizes scrap and maximizes efficiency
Estimating and costing functions
Download interface from most CAD/CAM software programs
Cut list
over 60 common geometric shapes
Label printing & more

Very user friendly. One of the most advanced and complete software packages offered in the industry
Training & Support
Training at your shop or come to San Diego at our expense or uninterrupted training.
OPTIONS:
Large Power Supply available (up to 1" rated)
Optional Insualtion Cutting
Return to the Plasma Cutting Tables Page
Return to the Tin Knocker Machinery Page
Return to the New Machinery Page
Return to the Home Page