Used Machinery
Used Air Compressors

Used Autobrakes / Sheet Metal Folders

Used Bar Folders
Used Sheet Metal Brakes

Used Cheek Benders

Used Cleat Benders / Cleat Folders

Used Clincher / Fasteners

Used Coil Lines

Used Crimping / Beading / Rotary Machine

Used Drill Press
Used Duct Beading Machine

Used Duct Insulation Liner Cutters

Used Flangers / Flanging Machines

Used Gorelockers / Elbow Machines

Used Grinders

Used HVAC Accessories
Used HVAC Duct Insulation Pin Spotters

Used Ironworkers

Used Laser Cutting Machines
Used Mechanical Piping Equipment

Used Notching Machines

Used Plasma Cutting Machines

Used Press Brakes

Used Punching Machines
Used Sheet Metal Rolls

Used Roll Formers

Used Saws

Used Sheet Metal Shears

Used Sheet Metal Slitters

Used Spiral Machines

Used Welders

Sheet Metal Foot Shears | Tin Knocker Squaring Shears

Tin Knocker TK1652 Foot Shear
The Tin Knocker 1652 foot treadle operated squaring shear incorporates all those features to which you are accustomed, to include precise gauging and hold downs for shearing accuracy. This shear is easy to operate and comes with 25" scaled back gauge.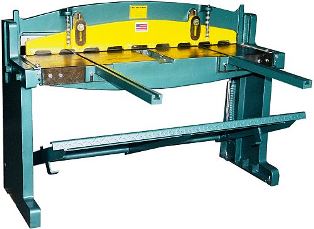 Specifications:
Capacity: 16 Ga Mild Steel (1.5mm)
Shearing Length: 52" (132cm)
Back Gauge: 25" with Engraved Rule (63.5cm)
Floor Space: 60" x 72" (153cm x 183cm)
Dimensions: 60"L x 34"W x 42"H (153cm x 87cm x 107cm)
Weight: 1215 lbs. (551kg)
Tin Knocker NO. 1 & No. 2 Hand Shear
Our TK Hand Shears are versatile metal cutting tools. With these shears virtually any desired cut can be made with most metals. Both models are designed to be bench mounted.
The throat less shears from Tin Knocker come in two capacities, 14ga & 10ga. These machines make awesome cutting tools. Both models use a unique shoulder design that allows you to turn the metal in any direction during the cut. These hand shears are set up for clean, burr free cuts.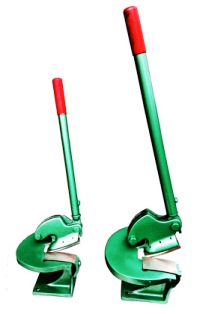 Specifications No. 1 Hand Shear:
Max Capacity 14ga Mild Steel
Max Capacity 18ga Stainless Steel
12" Height (Less Handle)
23 lbs.
Specifications No. 2 Hand Shear:
Max Capacity 10ga Mild Steel
Max Capacity 14ga Stainless Steel
15" Height (Less Handle)
38 lbs.
Tin Knocker H1652 Hydraulic Shear
The Tin Knocker power squaring shear makes shearing light gauge metal easy. The design and features make shearing accurate and efficient. This shear can accommodate 52" sheet with a maximum capacity of 16-gauge mild steel. The hydraulically powered unit features fast and smooth shearing action.
INCLUDES: Front support arms, Parallel rack and pinion back gauge, 5ft squaring arm with drop stops.
Specifications:
Weight: 1350 lbs.
Dimensions: 72 x 48 x 36 in.
Maximum shearing capacity, mild steel: 16 ga. / 1,6 mm
Maximum shearing capacity, stainless steel: 20 ga. / 1,0 mm
Maximum cutting length: 52 in. / 1320 mm
Back gauge range: 30 in. / 762 mm
Front gauge range: 37 in. / 940 mm
Standard motor: 3 hp. – 220 Volt/ 1 phase / 60HZ
Floor space, gauges in position: 66 x 76 x 42 in/ 1676 x 1930 x 1070 mm
Tin Knocker Jacketing Shear
This combination payoff cradle and hand shear cuts light gauge sheet metal, paper and thin plastic.
Scissor type with a hardened blade.

Easily cuts:
-Stainless steel
-Galvanized steel
-Aluminum PVC
-ASJ
-Kraft paper
-And other jacketing materials

Cuts galvanized or stainless jacketing up to 26-gauge, aluminum up to 22-gauge.

Bearing mounted roller cradle supports bulk rolls of material up to 400lbs.

No material mandrel required.

Point of operation safety guard.
Specifications:
Weight: 650 lbs
Dimensions: 55 x 74 x 70 in
Capacity: 26-gauge galvanized/stainless steel & 22-gauge aluminum
Maximum Sheet Width: 48"
Table top height or working surface height: 34"
Tin Knocker 1014 Air Shear
Manual Front Operated Back Gauge
Pull Out Front Sheet Supports
Front Dumping Rear Sheet Supports
Reversible 4ft Squaring Arm with Embedded Scale and 3 Drops Stops
Scaled Entrance Guides, Both Ends
Manual One-Shot Lubrication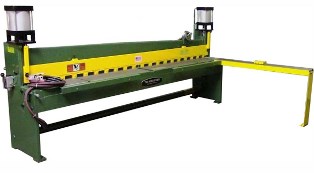 Specifications:
Weight: 3775 lbs
Dimensions: 144 x 40 x 64 in
Capacity: 14-gauge mild steel & 18-gauge stainless steel
Cycle Speed: 20 strokes per minute
Air Supply: 80-gallon tank, needs 90 psi and 60 CFM
Return to the Tin Knocker Machinery Page
Return to the New Machinery Page
Return to the Home Page