Used Machinery
Used Air Compressors

Used Autobrakes / Sheet Metal Folders

Used Bar Folders
Used Sheet Metal Brakes

Used Cheek Benders

Used Cleat Benders / Cleat Folders

Used Clincher / Fasteners

Used Coil Lines

Used Crimping / Beading / Rotary Machine

Used Drill Press
Used Duct Beading Machine

Used Duct Insulation Liner Cutters

Used Flangers / Flanging Machines

Used Gorelockers / Elbow Machines

Used Grinders

Used HVAC Accessories
Used HVAC Duct Insulation Pin Spotters

Used Ironworkers

Used Laser Cutting Machines
Used Mechanical Piping Equipment

Used Notching Machines

Used Plasma Cutting Machines

Used Press Brakes

Used Punching Machines
Used Sheet Metal Rolls

Used Roll Formers

Used Saws

Used Sheet Metal Shears

Used Sheet Metal Slitters

Used Spiral Machines

Used Welders
Notchers | sheet metal notching machines

Berry Floor Model Notcher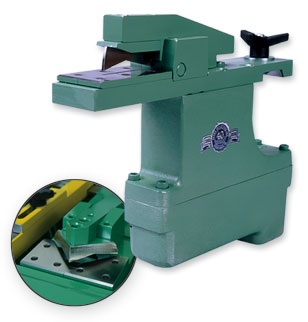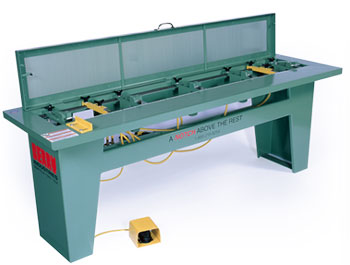 Features of Berry Floor model notchers:
Easy Installation – All of Berry Notcher floor models conveniently powered by 110 volt AC (60 Cy.) and will operate with a minimum 1 HP air compressor at 80-120 PSI.
75% Labor Cost Savings – Hand adjustable – no tools needed – so reconfiguration time is minimal. Cycle time is one second! Protective screen prevents injury. The machine operation stops when the screened lid is opened.
Steel welded frame for the Berry Notchers (floor model) comes in standard lengths for notching 4', 6', 8' and 10' lengths of material. Attractive, durable powder coat paint finish.
Permanent scales for measuring notch spacing and notch depth. Assures accuracy and saves time in both set-up and adjustment.
16 Gauge Capacity on the Berry Floor model notchers
Easy foot-pedal operation leaves operator's hands free to handle material, permitting single-operator notching. Foot pedal activates pneumatic operating mechanism. Cycle time is one second.
Individual head control eliminates the need to disconnect or remove unneeded heads. Each of the notching heads operates independently with its own air cylinder, operating mechanism and shut-off valve. By simply turning the shut-off valve, thus cutting off the air supply, any or all of the heads can be made inoperable
Berry Portable Notcher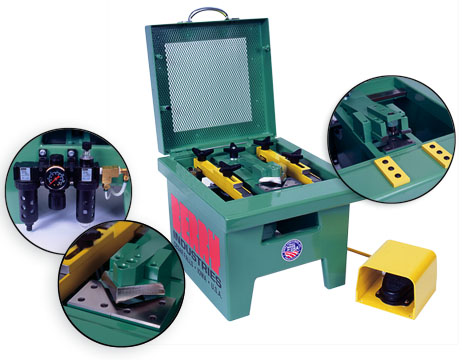 Features of Berry Portable notchers:
Easy foot-pedal operation leaves operator's hands free to handle material, permitting single-operator notching. Foot pedal activates pneumatic operating mechanism.
Cycle time is one second.
Filter/regulator/lubricator is assembled and tested at the factory.
Clean-cut notches from standard, custom or drive deal end-notch heads.
Portable for on-site use
Berry Portable Notchers are 100% air powered (no electricity required)
Drive cleat end-notch head available
The Portable Berry Notchers are Capable of running custom applications.
Safety guard protects the operator
Heads are interchangeable with our larger floor models , Easily fits any standard or custom head ,
16 Gauge Capacity on the Berry Industries Portable Notcher
Boschert Notchers
Boschert Hydraulic Power Notchers with TRI-GIDE

Boschert Hydraulic Notchers 90 degree fixed angle models include :

Boschert Model Lite
Boschert Model Eagle
Boschert Model Eagle 250
Boschert Model Silver Eagle
Boschert Model Golden Eagle

Variable Angle Models include :

Boschert Model VariIV
Boschert Model K30/120

Some features of Boschert Notching machines :

Fixed angle machines to 3/8" capacity
Variable angle machines to 1/4" capacity
Clean cuts guaranteed
Off - center cuts are not an issue
Extra long blade life is assured due to the unique design features in our TRI-GIDE system
Internal stop bar for shearing on most models
Ruoff Automatic Power Notcher

The Ruoff Notcher is a punch press with an adjustable automatic feed. It is precision designed for punching various shapes, along the edge of sheet metal. Sheet steel, galvanized iron, aluminum, plastics, cardboard, or any sheet material that can be punched, can be handled by the RUOFF notcher. Instulation of a ruoff notcher is easily handled in less than five minutes.Standard punch and dies provide either a 15 degree notch or a 3/32" slot. Other patterns are available for your Ruoff Notcher.

Here are some examples of what a Ruoff Notching machine is capable of doing.

Specifications For Ruoff Notchers:

Overall Dimensions: 18" w X 12" d X 50" h
Speed: From 20 feet per minute (240 punches per minute) up
Adjustments : Centers of notches are adjustable up to 1 1/8" max. Depth of notch is adjustable up to 7/8" max
Electrical : 115/230Volts a-c, 11/5.6 amps. , 3/4 h.p.
Gauge : Up to 16 gauge mild steel - 20 gauge stainless Other materials in proportion to shear strength (.060 max. thickness)

Roper Whitney hand operated notchers come in both bench style and portable hand tool styles. They provide a variety of special capabilities: notching, box forming, dove tailing, coping and corner shearing ; for sheet metal, angle iron, and flat stock.

These handy tools, operating on heavy duty bearings, trim, notch and cope (PS-66) up to 16 gauge sheet metal. The PS-66 is somewhat more rugged in construction and can be used to make inside cuts and to shear with only one side of the blade, which is not recommended with the No. 100. Both shears have adjustable blades, duplicate scales, adjustable gauge stops, and finger guard. Both the upper and lower blades are replaceable. Box flange blades are offered in both models and each has the option of a floor mount stand.
Roper Whitney No. 100 Notcher
Hand Operated
Bench or Floor Mounted
Adjustable Gauge Stops
Replaceable Blades
Finger Guards
Roper Whitney Model PS-66 Notcher

Hand Operated
Bench or Floor Mounted
Adjustable Gauge Stops
Replaceable Blades
Finger Guards