Used Machinery
Used Air Compressors

Used Autobrakes / Sheet Metal Folders

Used Bar Folders
Used Sheet Metal Brakes

Used Cheek Benders

Used Cleat Benders / Cleat Folders

Used Clincher / Fasteners

Used Coil Lines

Used Crimping / Beading / Rotary Machine

Used Drill Press
Used Duct Beading Machine

Used Duct Insulation Liner Cutters

Used Flangers / Flanging Machines

Used Gorelockers / Elbow Machines

Used Grinders

Used HVAC Accessories
Used HVAC Duct Insulation Pin Spotters

Used Ironworkers

Used Laser Cutting Machines
Used Mechanical Piping Equipment

Used Notching Machines

Used Plasma Cutting Machines

Used Press Brakes

Used Punching Machines
Used Sheet Metal Rolls

Used Roll Formers

Used Saws

Used Sheet Metal Shears

Used Sheet Metal Slitters

Used Spiral Machines

Used Welders
Edwards Manufacturing company | ironworkers
EDWARDS IRONWORKERS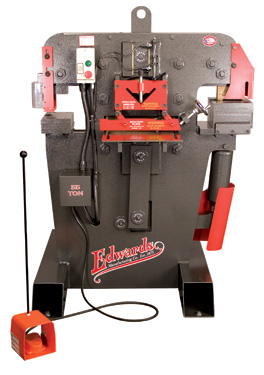 Edwards manufactures a full line of high quality, low maintenance hydraulic ironworking machines, associated tooling, and accessories that are used in the steel fabrication industry. Edwards Ironworkers are proudly MADE IN AMERICA with the highest quality American parts and accessories. Edwards Ironworkers Punch, Shear, Notch and Brake mild steel plate, bar-stock and angle. A wide range of accessories are available to fabricate rod, square stock, sheet metal and pipe.
Standard Features for Edwards Ironworkers :
Stripper Reducing Plate --Use with smaller punches and thinner material
48" Manual Back Gauge -- Cut repeatable lengths of angle and flat stock
48" Auto Cut -- Production cutting for repeatable lengths
Urethane Stripper -- Ideal for sheet metal fabrication
241 Punch Station -- Ideal for punching large format and patterned holes
Pedestal Die Table -- Punch leg-down angle Available in oversize
Gauging Table Kit -- 3/8" x 12" x 16", bolts to Pedestal Die Table,
includes one short and one long fence, custom sizes available
Heavy Duty Gauging Table Kit -- 1" x 12" x 16", includes one short and
one long fence, available in oversize
Electric Stroke Control -- Increase production from your punch,
notch or shear stations

There are many models of the Edwards Manufacturing Co. Ironworkers available
Edwards 25 Ton Iron Worker
Edwards 50 Ton iron worker
Edwards 55 ton ironworker
Edwards 60 Ton Iron Worker
Edwards 65 Ton Ironworker
edwards 75 ton iron worker
edwards 100 ton ironworker
Edwards 120 Ton Iron worker
And ... NEW MODELS FOR 2008
The E150J5 is the powerhouse of the Edwards Ironworker line of products. Featuring five available workstations, the Edwards E150J5 incorporates a universal open tooling cavity, 24" bar shear, heavy duty punch station, integrated notching station, electric foot pedal and electric stroke control as standard features.The E150J5 will notch 3" x 6" in 1/2" plate, punch 1-7/8" holes in 1" plate, shear 6" x 6" x 1/2" angle and shear 1/2" x 24" or 1" x 14" bar stock.
Contact us about Edwards Ironworkers
Return to the Home Page